Sharing a Heartbeat: love, pregnancy, and living with rheumatic heart disease
Submitted by Sean on Thu, 2017-10-05 14:51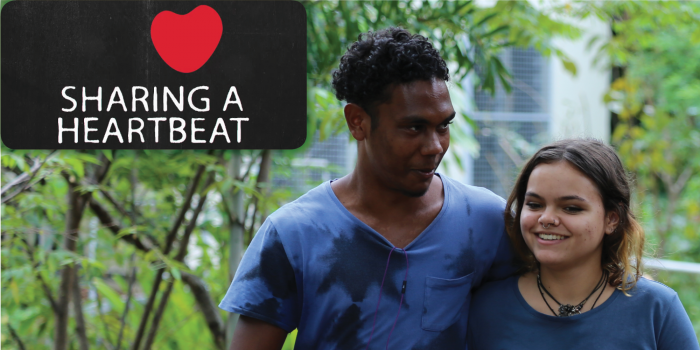 A new film written and directed by a group of Northern Territory Aboriginal women follows the story of Tess, a young women whose boyfriend, Jamie, reveals his desire to start a family. While surprised and happy, she's not told Jamie about her rheumatic heart disease (RHD). She's not sure how her heart disease will affect her pregnancy or if she can have a baby at all. Looking for answers, Tess turns to her best mate, her mum and the local health clinic for guidance on what to do next. Will they have the answers?
By embracing two-ways learning and a spirit of cross cultural cooperation, RHDAustralia and Menzies School of Health Research are proud to announce the completion of the first ever educational short film on rheumatic heart disease in pregnancy entitled Sharing a Heartbeat.
RHDAustralia sat down with one of the directors, Ms Kenya McAdam, a 21 year old Jaru and Kira woman from Halls Creek, Western Australia currently living in Katherine, Northern Territory. For Kenya this film was deeply personal and an intimate reflection on life as a young woman living with RHD. Kenya developed RHD at 15 years old and required open heart surgery within 3 months of diagnosis. Since that time, Kenya has worked with RHDAustralia to raise awareness about this 100% preventable disease.
Hi Kenya, why did you decide to get involved in the creation of this film?
"I chose to help create this film because I wanted to help young women living with RHD and make sure they can access information about contraception, pregnancy and planning for a baby.
What is the take home message from the film?
"The film points out the main needs of a young woman living with RHD to help care for herself, her heart and her baby. The film re-assures young women with RHD that they can have a normal healthy pregnancy; they just need to take extra care of themselves.
"From a personal perspective, the film answered my unanswered questions. For other young women with RHD, I think it will help them understand more about approaching pregnancy." 
Having Kenya involved from the very start was central to ensuring the film was produced from a patient centric, woman centric and gender sensitive standpoint. But of equal importance was making certain it was developed to be culturally appropriate and safe. This was accomplished by including Indigenous women throughout the process, whether in the design, development, testing or making of the resource.
One of the key contributors alongside Kenya was Noeletta McKenzie whose daughter, Raychelle, was diagnosed with RHD four years ago at the age of nine. Noeletta's been involved in numerous community development projects in Maningrida and Darwin and was quick to answer a call for assistance with the making of the film. "I saw the advertisement on the RHDAustralia Facebook page and enquired about how I could support with the development of the resource." Noeletta helped to co-write the film and to guide and consult the actors on set.
When asked about why it was important to have Indigenous women involved in the making of the film she told us "I feel that as the resource is targeted at Indigenous young women, we needed to ensure that they were featured. It's also about cultural safety and cultural context, educating our young women in our way."
Leading by example, Noeletta is instilling these qualities in her daughter as well. When asked if the film has helped her daughter learn more about her RHD, Noeletta said "She's well aware of the disease and how as a young woman it has affected her life. She would like to be a part of an advisory group to share her experience and pass on her knowledge."
Acknowledgements
There were many people involving in the making of this film and we would like to thank the actors, directors, writers, and producers for producing such a well-crafted and meaningful film that is educational, culturally responsive, collaborative and meaningful. This film was produced by RHDAustralia and made possible with a grant from NTPHN.
Background
Literature reviews and content of health promotion material from Australia and New Zealand shows that there is very little information available for girls and women who have RHD. A recently completed study conducted by the Australian Maternity Outcomes Surveillance System (AMOSS) has shown that for Indigenous women in Australia, there are many misconceptions around rheumatic heart disease (RHD) and how it can impact their pregnancies.
The target audience for this film is girls and young women from ages 13 to 20s who have mild to moderate RHD.
Sharing a Heartbeat is freely available in English and Kriol with plans to make the film available in more Indigenous languages. You can find these films and other important resources on the RHDAustralia resource page.  Additional print resources are linked with the English and Kriol films through the resource page on our website.