An Australian effort to accelerate a Strep A vaccine candidate into clinical trials in Australia.
Submitted by Naja on Tue, 2022-07-19 14:39
By Alma Fulurija, Project Lead for the Australian Strep A Vaccine Initiative (ASAVI).
Group A streptococcus (Strep A) is among the deadliest infections on the planet and is one of the most neglected infections in terms of burden of disease. Strep A infections cause a wide range of diseases which contribute to significant morbidity and mortality throughout the world. Strep A disease ranges from superficial infections such as throat and skin infections to severe disease including acute rheumatic fever (ARF), rheumatic heart disease (RHD) and acute post-streptococcal glomerulonephritis (kidney disease). Australia has some of the highest rates of ARF and RHD.
Despite the large global burden of disease, there is no safe and effective vaccine against Strep A available today. Funding for Strep A vaccine development has been a low priority, and scientific, regulatory, and commercial obstacles have slowed progress.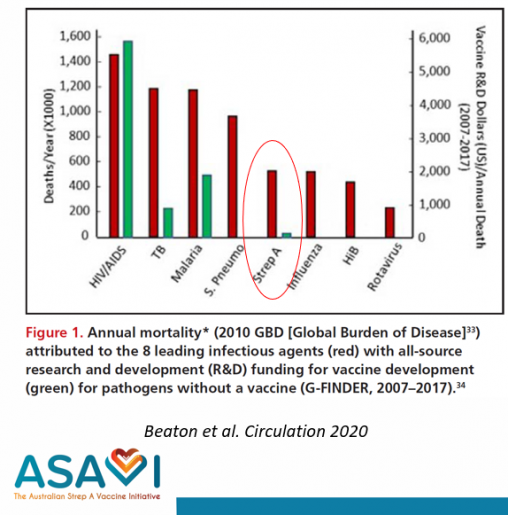 However, with considerable effort in raising awareness and advocacy in the last decade, research partners in form of international global health organisations such as the World Health Organization (WHO), together with governments, clinicians, vaccine developers, regulators, and funders, have joined forces to overcome these obstacles to accelerate development of a Strep A vaccine.
This effort culminated in a global resolution on ARF and RHD in 2018 and the WHO setting development of Strep A vaccines a priority. The Australian Strep A Vaccine Initiative (ASAVI) was formed in 2019 in response to progress made through WHO and the World Health Assembly.
In 2022, ASAVI, coordinated by Telethon Kids Institute and Murdoch Children's Research Institute, is on a mission to fast-track development of safe and effective vaccines against Strep A. ASAVI is a global initiative aimed at reducing the disease burden caused by Strep A infections through effective vaccination. By bringing research partners together, we believe we can achieve a safe and effective vaccine to combat Strep A.
ASAVI's first objective is to accelerate a leading Strep A vaccine candidate to phase 2 efficacy trials in the next 5 years. Preclinical activities are nearing completion and ASAVI intends to start clinical trials in 2023 to test a lead candidate.
Australia leading global vaccine development efforts
Following the adoption of the 2018 WHO resolution on RHD, and against a backdrop of increasing RHD rates in Australia's Aboriginal and Torres Strait Islander communities, the Australian Government awarded ASAVI an AUD$35 million grant (2019) to accelerate a lead Strep A vaccine candidate into early-stage clinical trials. This was further support by philanthropic investments in 2020-2021; Open Philanthropy pledged US$5.3 million toward our program and the Leducq Foundation provided US$4.0 million for development of a serology platform to assess vaccines in clinical trials. We are grateful to our supporters as we build a network of partners to advance the Strep A vaccine effort.
ASAVI has established an international Scientific Advisory Board and an Indigenous Advisory Board consisting of eminent national and international experts in their respective fields to guide our work and ensure a successful Strep A vaccine development program.
More funding required to progress a vaccine to licensure
Developing a vaccine takes time and is costly. COVID vaccines have proven the pathway to how a successful vaccine can be accelerated with strong partnerships and sufficient funding. ASAVI is committed to building such partnerships to facilitate success.
"Successful vaccine development requires commitment and enormous financial investment.  The $35 million provided by the Australian Government in 2019 was a visionary move, a catalytic boost, but the reality is a lot more funding is needed to get to the point where we can trial and licence a vaccine," said ASAVI Co-Director, Professor Jonathan Carapetis.
ASAVI Co-Director, Professor Andrew Steer, agreed. "That's why we are so grateful for the contribution of organisations like Open Philanthropy and the Leducq Foundation, that will allow us to develop robust clinical assays to accurately measure and assess the vaccine's potency in volunteers. The validation data gained from these assays represents a painstaking but vital step to advance development of this vaccine."

Critical work in epidemiology and community engagement and capacity building
In partnership with communities and primary health care providers, ASAVI is also gathering baseline epidemiological data in Australia on Strep A-related sore throats (pharyngitis) – a vital first step in designing the future vaccine trials that will allow us to calculate sample size for ASAVI's early clinical trials.
Our team is also consulting with Aboriginal and Torres Strait Islander communities to better understand the requirements to enable vaccine uptake among populations at high risk of RHD in Australia.
Find out more about ASAVI's work and how you can get involved on our website.