Guidelines and Diagnosis Calculator App
Evidence-Based App
RHDAustralia has developed a free app for use on iPhone, iPad and Android devices to support the Australian health workforce with clinical aspects of acute rheumatic fever (ARF) and rheumatic heart disease (RHD).
The app includes a summary of key information from the 2020 Australian guideline for prevention, diagnosis and management of acute rheumatic fever and rheumatic heart disease (3rd edition), and an ARF diagnosis calculator.
Key information includes primary prevention, diagnosis, and management of ARF, and information about the management of RHD, including secondary prevention. The app also provides contact information for the Australian RHD register and control programs, and criteria for public health notification of ARF and RHD in Australia.
The built-in diagnosis calculator provides a pathway to help guide clinical suspicion of ARF based on the latest evidence, including personal risk factors and symptoms. Additional information is available in text and visual references at each step of the process.
This short video demonstrates how to use the app....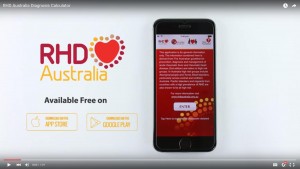 Download iOS app »
Download iPad app »
Download Android app »
"If a diagnosis is missed it's a lost opportunity to prevent disease progression… you miss the window for regular penicillin injections, follow-ups with specialists and other interventions that improve outcomes for children and young people with rheumatic fever. The app also filters out cases that aren't rheumatic fever, so that a clinician is not over-diagnosing either. I think this is the way forward."

 

Anna Ralph
Clinical Director, RHDAustralia
Last Updated
02 December 2022