Getting the message out: advocate Mum making a difference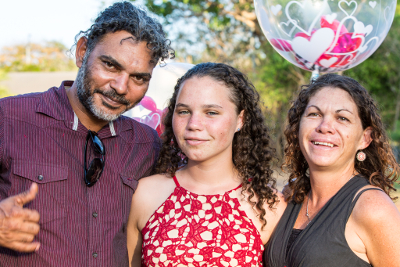 "I'm really passionate about advocating for more awareness around acute rheumatic fever and rheumatic heart disease after having seen what my daughter went through. I want people to know what the symptoms are and what to look out for. I don't want anybody to have to go through what Raychelle's been through." 
Raychelle McKenzie was just nine years old when she was diagnosed with rheumatic heart disease (RHD). Noeletta, her Mum, originally from Alice Springs, has spent the past four years learning more about the disease and is an outspoken advocate raising awareness around Maningrida in the Northern Territory. 
A few weeks before Raychelle's diagnosis she was taken to the hospital with a fever and sore throat but there was no definitive diagnosis. A few days after that her Mum found her crawling around the house, unable to walk because her joints hurt so much.  Noeletta didn't know what was going on. "We now know she had some of the symptoms of the fever (acute rheumatic fever) but at the time we had no idea what was going on with her, we put it down to growing pains. We had a lack of understanding about RHD."
Now at 13, Raychelle is four years into her preventative treatment of penicillin injections. The injections keep her from getting acute rheumatic fever again and causing further damage to her heart. Raychelle and Noeletta both understand the importance of getting her injections on time. "She has her needles every 28 days and is very responsible in ensuring they are done on time," Noeletta tells us.
Noeletta's worked on a number of projects focussing on RHD awareness and advocacy. Most recently, she helped RHDAustralia produce the educational short film Sharing a Heartbeat. She joined a team of Indigenous and non-Indigenous women who came together to develop a culturally appropriate film about love, pregnancy and living with RHD. By bringing her real life experiences with RHD to the film set, Noeletta contributed significantly to the creation of the script and creative direction of the film. 
When asked why she chose to get involved in the creation of a film about RHD in pregnancy, she said "There's a need to make more informative resources for RHD clients. I felt there was a lack of information for young women in regards to pregnancy and having RHD. Young women and girls want answers to questions like, 'am I putting myself at risk if I want to have a baby?'"
Noeletta was also responsible for securing funding for the popular Indigenous Hip Hop Projects music video My Heart Keeps Beating, which was filmed in Maningrida. The music video brought together many people from the community who have RHD and gave them the opportunity to tell their powerful and emotional stories about living with RHD. The video, which features her daughter, starts with Raychelle telling her story "Woke up in the morning and I was dizzy in my head, shaking and sweating in my bed, couldn't go to school I was short of breath. I went to the clinic to get it checked. Doctor plane flew me straight to Darwin and this is where my treatment started. Rheumatic heart caused all the pain and now I need a needle every 28 days".
It's these sorts of locally produced and culturally appropriate projects and resources that Noeletta feels are urgently needed. Speaking about the RHD in pregnancy film she told RHDAustralia "I feel that as the resource is targeted at Indigenous young women we needed to ensure that they're featured. It's also about cultural safety and cultural context, educating our young women in our way."
When asked about what more can be done she said "Resources in language would be really useful and resources that help the RHD community understand the depth of importance when it comes to self-care. I think awareness campaigns that talk about the symptoms and how they can appear at different times need to be more widely advertised to communities and parents. It would also be great to ensure that a nurse is allocated to the RHD patients so they aren't sitting around in the health clinic waiting while having this serious condition."
Background
Rheumatic heart disease is up to twice as common in women, and tends to affect women during their child bearing years. There is a 30-50% increased cardiac workload in normal pregnancy.  Young people aged 5 – 14 years are at highest risk and up to 122 times more likely to contract the disease than non-Indigenous youngsters. Almost all cases of rheumatic fever recorded in the NT between 2005 and 2010 were for Aboriginal and Torres Strait Islander people (98%). It is deemed an entirely preventable disease of poverty.
Sharing a Heartbeat is freely available in English and Kriol with plans to make the film available in more Indigenous languages. You can find these films and other important resources on the RHDAustralia resource page.  Additional print resources are linked with the English and Kriol films through the resource page on our website.
Thanks to Noeletta and Raychelle for sharing their story, we look forward to working with them again in the future.
Last Updated
29 June 2020