Angka rlterrk nhanyem health-akert ("This is a strong word about health")
Submitted by Naja on Tue, 2022-07-19 13:47
By David Blackman & Sara Noonan
In addition to English, there are at least 12 distinct Aboriginal languages spoken within a 500km radius of Alice Springs (personal communication, D Blackman, July 2022). Providing accurate health information to diverse language groups can be difficult but is particularly important in a region like central Australia where there are very high rates of acute rheumatic fever (ARF) and rheumatic heart disease (RHD).
Melissa van Leeuwen is a Clinical Nurse Specialist who provides care and support to people with ARF and RHD in the Alice Springs region. This includes providing complex health information to people who speak a diverse range of Aboriginal languages, and who speak English as their second, third, or fourth language. One of the resources Melissa uses in her work is the Take Heart Important Health Message video which provides key information about ARF and RHD and has been translated into several Aboriginal and Torres Strait Islander languages.
Melissa works closely with Aboriginal Liaison Officers based at the Alice Springs Hospital. They always want to know if Aboriginal people have been shown the Take Heart Important Health Message video in their first language before they provide further health messaging through interpretation.
In 2019, Melissa was concerned for a 26-year-old woman in her care, who was newly diagnosed with RHD, but had very limited experience of health care. This woman, who spoke Alyawarr, needed information about ARF and RHD, so that she could make informed choices about her ongoing care.
Alyawarr is the name of the language and people whose traditional lands lie in the Sandover River region of northeastern central Australia, between the Barkly Highway and the Plenty Highway. Many Alyawarr people live on their traditional lands in this region, while others live in the towns of Ilperrelhelam (Lake Nash), Camooweal, Mt. Isa, Amameny (Urandangie), Tennant Creek and Alice Springs. This area is roughly equal in size to the state of Victoria. In total, there are approximately 1,800 Alyawarr speakers.
Melissa found that there were no health education resources for ARF and RHD in Alyawarr, so she approached local Alyawarr language speaker and translator, David Blackman, to help translate the Take Heart Important Health Message video from English into Alyawarr.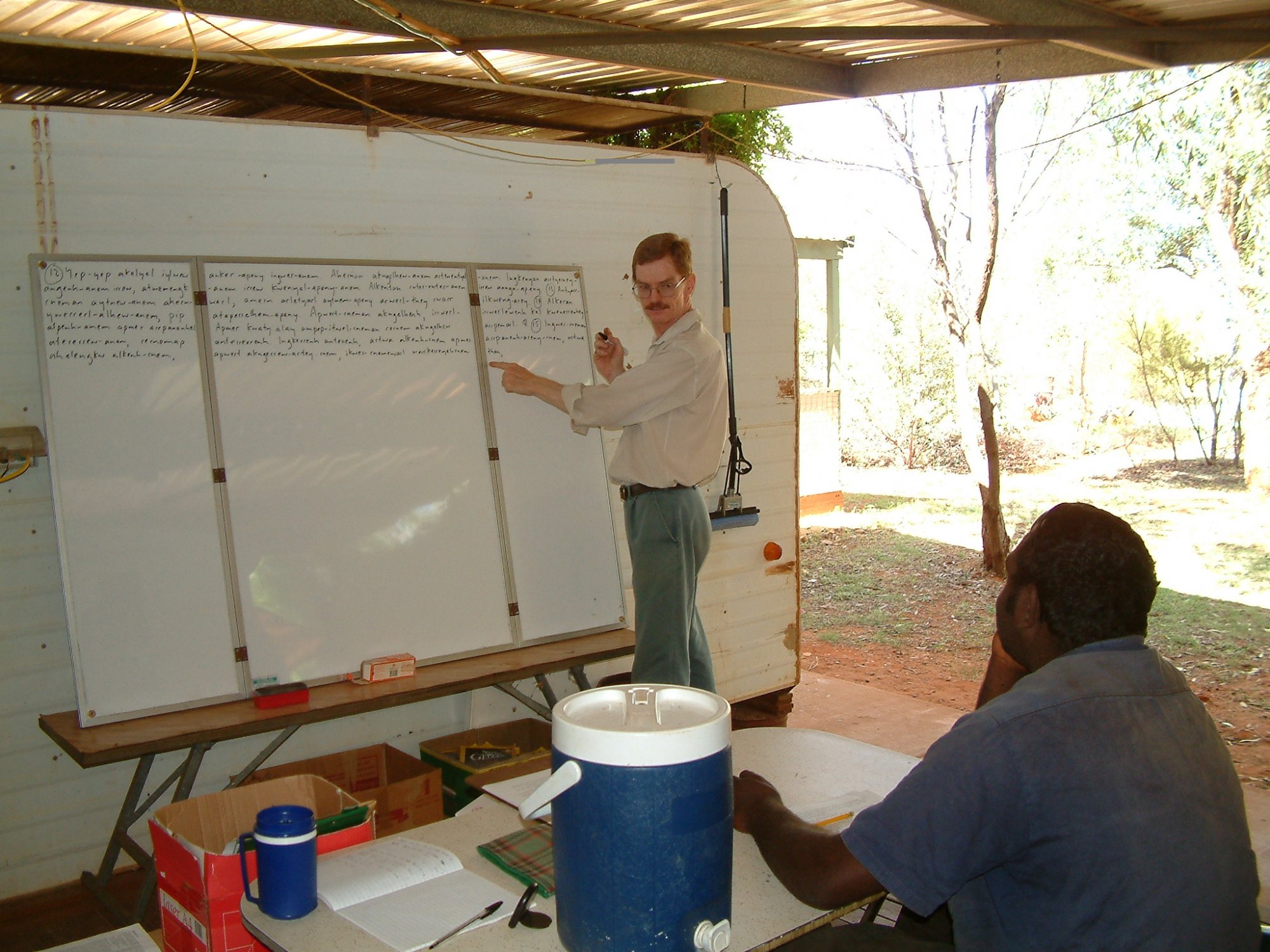 David consulting a language speaker at Epenarra to translate a passage from the Bible.
David moved to the Northern Territory from Sydney in 1980, and worked for the Education Department for two years, visiting remote communities. He noticed that English was not commonly spoken outside the Alice Springs town area. He returned to central Australia in 1992, and he learned to speak Alyawarr while living and working with his family in the Wetenngerr community on Epenarra Station, 550km northeast of Alice Springs. He understood the value of learning to communicate effectively by building relationships with people in the community.
"It is difficult to properly learn a language in a course or from a book. True language learning is not an academic activity. It is best to learn as children do, through relationship. We listen, we mimic, we ask, we point, we write down, we record — and we do so with respect," says David.
For the Take Heart video translation, David first translated the English video text into Aboriginal English, and then with help from an Aboriginal language speaker (VL, deceased), translated the Aboriginal English into Alyawarr. David translated the Alyawarr version back into standard English for checking purposes (example below).
Take Heart video clip       Part 1, Line 4-6 (1.4-6)
'Plain English' script

Aboriginal English

Alyawarr 

Back translation from Alyawarr

Watch out for children and young males and females with.

Painful joints (like ankle, knees, hip or elbow, wrist, shoulder) and
Fever (feeling cold and shivering but when you feel their forehead, they feel very hot to touch).

Look out for this kind of sickness:

ankle, knee, hip, elbow, wrist, and shoulder are paining
body getting hot – maybe cold and shivering, but the forehead is hot when somebody touches it

Children, youngfellas and young girls might feel like this.

Mwanty arntarnt-arayntey anantherr arntety nhelkwerew. Amperneman, artwa akely-rnem, kwey aleyak-rnem-akerr alakenh apek awelhem ─

Atnererrk, ampweth, aneny, amak, anpeth, akwa amwernterrng apek kwarnelheyel.
Arlka rwenperreyel. Ampa arntety apek atheperrel arrewem, rlwanap rwenp inngarl awelhemel, ingwerentyelarl arnep-arnem.

Let's carefully look out for these kinds of sickness. Children, young men, and young women too might feel like this ─

Ankle, knee, hip, elbow, wrist and maybe the shoulder are hurting.
The body is getting hot. Maybe a sick child shivers with cold, but the forehead feels really hot, when somebody touches it.
Alyawarr has some long words and needs to use more words than English to convey complex ideas. This process of preparing a pre-draft in Aboriginal English indicates that 'plain English' does not necessarily include information in the correct format for people who do not speak English well. An emphasis can be misplaced, and specific terminology might not be understood by people whose first language has a different structure. For example, Aboriginal languages rarely use abstract nouns ('health', 'warning'), and there are no words for 'potential' or 'risk' in Alyawarr. Given that a large focus of RHD control is based on secondary prophylaxis to prevent the risk of recurrent ARF, more effort is required to design health messaging for different cultural and language groups.
Melissa says the Alyawarr video is the most requested language video version among people in her region, and she played it about 100 times between January 2021 and June 2022. In one instance, two languages in one family required viewing of both the Alyawarr and the Arrernte versions, so that all members of the family could be equally informed.
According to David, very few Alyawarr speakers can read and write their language, so the value of messages in video and audio formats cannot be underestimated.
The Take Heart Important Health Message videos are available on the RHDAustralia website. RHDAustralia is also running the Dilly Bag Project, an initiative to help bridge the language gap by increasing the available ARF and RHD video and audio resources developed by Aboriginal and Torres Strait Islander communities in their own languages.
For more information about resources for ARF and RHD including the Dilly Bag Project, contact info@rhdaustralia.com.au. 
RHDAustralia thanks David Blackman and Melissa van Leeuwen for sharing their stories, and acknowledge Mrs VL, who shared her cultural knowledge in the preparation of the Alyawarr video. We pay respect to all people who are helping to translate much needed ARF/RHD resources into language.