It's not just about medical care...
Submitted by Sean on Mon, 2016-10-24 09:30
Media Release - 21/10/2016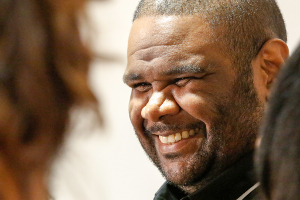 Housing and health education: The keys to preventing rheumatic heart disease (RHD) in the NT                           
Housing and health education are the keys to prevention. That was the message to the 130 people at the Darwin Q&A event on Rheumatic Heart Disease – Forgotten but not Gone. It was held at the NT Parliament House last night and was a highlight of a two day workshop for health professionals. The need for closer liaison and co-operation between Government Departments eg Housing and Health was also stressed.
This year's figures show more than 6000 known sufferers of rheumatic heart disease in Australia, most are Indigenous children and young people. The highest rates are recorded in the NT. The disease is entirely preventable and is now all but unknown in mainstream Australia.
Housing was one the key issues along with health education, according to the Q&A panel. Too many people in one house meant the disease, caused by an infectious (transmissible) bacteria, could spread easily between members of a household.
At the Q&A event the Minister for Housing, The Hon Gerry McCarthy re stated the Government's promise for a $1.1 billion commitment to NT housing.
And the Minister for Health, the Honorable, Natasha Fyles who opened the workshop on the diagnosis and treatment of rheumatic heart disease and its precursor, acute rheumatic fever said "...our Government is well aware of the devastating statistics and the impact on individuals, communities and the health system. We know that the provision of appropriate housing is a key factor in preventing RHD."
Adam El-gamel, an internationally renowned heart surgeon explained that in NZ nurses visited communities and swabbed the kids with sore throats so that immediate treatment could begin before the infection developed further and appropriate housing was made a priority.  In Darwin for the event and for the workshop, he said that prevention was the key and that the NZ Government had invested heavily in prevention and housing, as well as medical care, and it was delivering results.
People living with rheumatic heart disease spoke movingly of their experiences. Eddie Masina has had five open heart surgeries, the first at age 12. All had to be done away from his home and community. Kenya McAdam had her first surgery at 14.  Kenya is one of six children. Her mother Cherie spoke of how difficult it had been to manage the family when there were six children under 13, three of them will medical conditions; especially as a single mother. Their full stories can be read on our Family Stories page.
Far too few people are aware of this entirely preventable disease. Frequently children require open heart surgery which involves thousands of kilometres of travel to metropolitan (i.e. Southern) hospitals from the NT, and in the earlier stages, painful injections which must be given at least monthly - a huge job in very remote areas.  Treatment is very costly and the effect of the disease on their education, life style and livelihood can becatastrophic.     
Panelists included:
RHD sufferers including Eddie Masina, and Kenya McAdam  supported by their families
Charlie King, the legendary ABC sports journalist in Darwin, an Indigenous man active in anti-violence campaigns and promoting health and safety in Indigenous communities 
Adam El-gamel, Heart surgeon,  internationally recognised as leading authority on Rheumatic Heart Disease
Professor Bart Currie, Director, Rheumatic Heart Disease Australia
Marion Scrymgour, CEO Tiwi Islands Regional Council
Mark Munnich,  legal educator and advocate, North Australian Aboriginal Justice Agency (NAAJA)        
Vicki Wade, leading Indigenous health expert and advocate
Charlie King, who facilitated the Q&A, explained that a simple thing like a sore throat or skin sores from a Strep A infection could end in rheumatic heart disease and death.  He said it was an outrage that this disease affected mainly Indigenous people, usually the young and was all but unknown in white Australia. Indigenous Territorians are 8 times more likely to be hospitalised and 20 times more likely to die from it than other Australians, he said.
Marion Scrymgour, now CEO of the Tiwi Islands Regional Council and formerly a Minister in the NT Government, told how two of her brothers had died of the disease.
---
Information/interviews  
RHDAustralia - 08 8946 8654 - info@rhdaustralia.org.au
With thanks for the support of KPMG, Darwin International Airport and Airnorth.