Translating research into action: RHD in Pregnancy
Submitted by Sean on Mon, 2017-04-17 14:26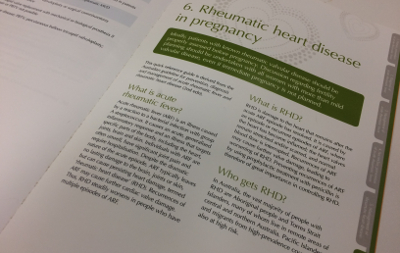 For women with rheumatic heart disease (RHD), pregnancy requires special care and consideration. RHD is up to twice as common in women and tends to affect women during their childbearing years.  However, there is very little research on the implications for women with RHD in pregnancy. Starting in 2012 and running until late 2016, a team of Australian investigators set out to fill this void with an investigation that looked at components of the Australian health system and the experiences of women with RHD in pregnancy.
The study was conducted by the Australasian Maternity Outcomes Surveillance System (AMOSS), led by Professor Elizabeth Sullivan, Deputy Vice-Chancellor of Research and Professor of Public Health at the University of Technology Sydney. The four-year mixed methods study incorporated quantitative data from nearly 300 maternity units across Australia while also looking at the lived experiences of women who were going through the health system while living with RHD in pregnancy. One of the qualitative study sites was the Northern Territory where Menzies School of Health Research was the research partner.   
"The study aims to determine the best model of care for pregnant women and their babies and identify targeted improvements in the health care system". – Professor Elizabeth Sullivan
Discovering hidden stories
The qualitative study uncovered some hidden and complex stories.  Professor Sullivan said,
"We are discovering many different stories and clinical pictures of women. A young Wiradjuri woman from western NSW has a very different story from a Yolngu woman in remote Top End of Australia where English is a fifth language, and different again from an older refugee woman from Sudan, or a Maori woman in urban Auckland.
"But for all, features of care including early (ideally pre-pregnancy) diagnosis of RHD, better access to diagnostic and treatment services, collaborative care and appropriate education and pre-pregnancy counselling are all critical factors in maximising good outcomes for women with RHD in pregnancy".(1)
Results of the study have recently been published by Associate Professor Suzanne Belton, a co-investigator on the study, in the Obstetrics & Gynaecology Magazine. Associate Professor Belton was part of the Northern Territory research team that followed eight Indigenous women in the NT as they navigated the health services throughout their pregnancy, birth and postnatal period. 
The publication, Yarning about 'that heart problem': RHD in pregnancy presented a woman's case study from a remote community as she traversed through an often complicated, unfamiliar, and some would argue, inequitable system. The results of the qualitative study demonstrated the complexities of a health system that is not designed to accommodate Indigenous cultures, beliefs and languages and lacks appropriate resources to assist women with RHD in pregnancy and their complex physcho-social health needs.
From publication to movie making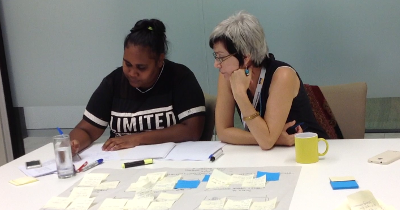 Drawing on these valuable stories, Associate Professor Belton (right) and RHDAustralia Indigenous Liaison Officer, Kenya McAdam (left), are now working on a short health education film about RHD & pregnancy. The film will cover what women with RHD need to know when managing contraception, conception, pregnancy and other women's health issues.
Associate Professor Belton said, "The film is aimed at women and families with RHD who wish to understand more about caring for young women as they transition to adulthood. Girls with RHD need to know more about decision-making when they want to have a baby. Some girls have said they won't ever have kids because their heart is sick. But we know that with good maternity and cardiac health care they can have very healthy pregnancies and babies."
The film will be available via the RHDAustralia website.
And coming soon....
Concurrently, Kylie Tune, RHDAustralia Project Officer, is working with a steering committee of midwives and educators across Australia to develop and integrate RHD education into undergraduate midwifery curricula.  Also part of this work is the development of a 'grab bag' of resources for midwifery educators to use with their students. This is just one component of ongoing work by RHDAustralia to integrate and reintroduce education on acute rheumatic fever and RHD into vocational and tertiary health education across Australia.  
Resources and information on RHD in pregnancy
The accredited* RHDAustralia clinician module 'Pregnancy in RHD' (module 14) contains further information about risks and management of RHD in pregnancy.                               
Further information about AMOSS and the RHD in pregnancy research project can be found on their website and in the April 2017 AMOSS newsletter.
Clinical information on RHD in pregnancy can be found in The Australian guideline for prevention, diagnosis and management of acute rheumatic fever and rheumatic heart disease (2nd edition) and is a featured clinical update on our website.
---
*Australian College of Midwives (ACM) and Australian College of Remote Area Medicine (ACCRM).
References
1. University of Technology Sydney. The heart of the matter for Indigenous mothers [Internet]. 2015 [cited 18 April 2017]. Available from: http://newsroom.uts.edu.au/news/2015/11/heart-matter-indigenous-mothers