Barunga community lead screening for rheumatic heart disease
Submitted by Sean on Mon, 2021-03-29 11:29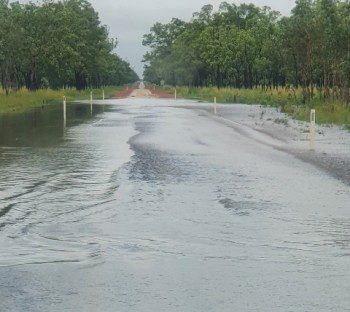 Despite heavy rain, flooding and muddy conditions, the community of Barunga came together with health professionals and local organisations to carry out an important initiative aimed at identifying children with rheumatic heart disease (RHD) in their community.
Led by Barunga local Anne-Marie Lee, 80 children in the community received lifesaving heart scans looking for signs of RHD.
Working hand-in-hand with health professionals from NT Cardiac, Royal Darwin Hospital, Menzies School of Health Research, NT RHD Register, RHDAustralia, Sunrise Health, and Moonshine Agency,  the community not only helped organise the event but also participated is using the handheld echo screening machines to scan children in their community.
With support from specialists on the ground, Anne-Marie, along with fellow Barunga community members, received specialised training on how to use the machines and to learn what to look for when identifying RHD in children.
"It was such a great opportunity, you know, and we're keen to get more training on how to use the Lumify (echo screening tool) to send images back to the specialists for review," said Anne-Marie.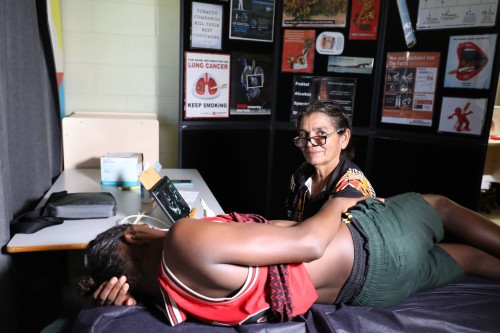 Combined with education efforts at the school, the initiative also served to raise awareness and develop greater knowledge about the disease in their community.
"We worked with the school on education in the classroom setting; using materials from RHDAustralia and explaining to kids in Kriol. We even had Desley from the NT RHD Control program, who has so much experience in the area and was really good at giving us that clinical information," Anne-Marie said.
Vicki Wade, RHDAustralia's senior cultural advisor, who assisted with the initiative, reiterated that the education component alongside the screening activities was vitally important to helping the community make sense of what was happening and why.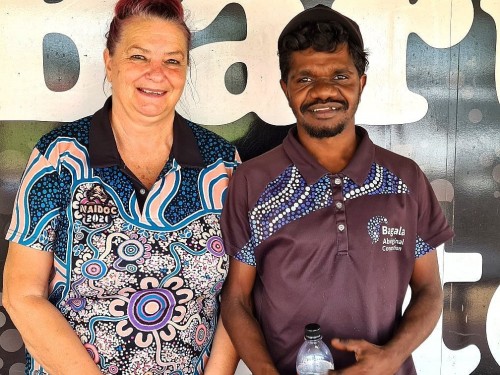 "The screening provided an opportunity to talk to children about acute rheumatic fever (ARF) and what they knew about it. Having local community health workers involved in the screening made a huge difference as they were speaking in Kriol and reassuring the kids.
"The schools were very supportive, providing rooms for screening, allowing kids to take time off class, and helping with consents," said Vicki.
First trained to use the handheld echo machines in 2019, Anne-Marie is one of the more experienced trainees, having worked with NT paediatrician, Dr Josh Francis on screening activities in the communities of Maningrida and Wadeye.
"I was shocked by what I saw in Maningrida, I couldn't believe it. Later, I did some screening in Wadeye as well. I started to wonder what was happening in my own community. I knew there were kids in Barunga who had RHD and I wondered how many were out there, undiagnosed. I told Dr Josh, 'we need to go to Barunga and do some screening'," said Anne-Marie.
Working alongside Dr Francis, and other specialists such as NT paediatric cardiologist Dr Bo Remenyi, they began planning for screening in Barunga.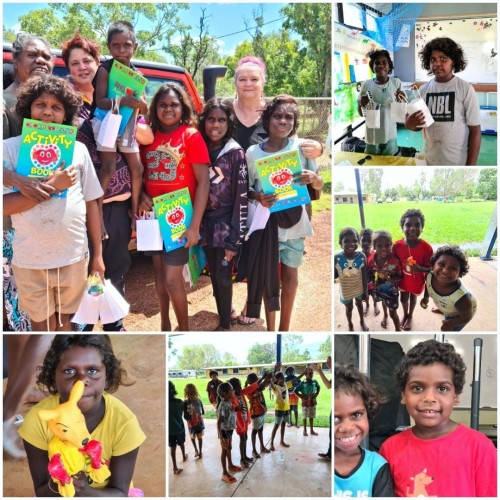 "Anne-Marie, who is the chair of Sunrise Health and an Aboriginal health practitioner and RHDA Champion4Change, has been involved in echo screening projects using these tools in other communities in the Top End.She asked us to come to Barunga, to work with her community and start the process of teaching Aboriginal health practitioners there," said Dr Francis
Dr Francis is no stranger to echo screening for RHD in remote areas. He was behind the screening that was carried out in Maningrida and has carried out screening in Timor-Leste, Wadeye, and now Barunga.
 "It was such a privilege to be welcomed into the community in the way that we were, with the opportunity to work alongside local staff, and to learn from them and from the children and families we met too.
"Unfortunately, as we've found in every community we've visited to do echo screening, we identified new cases of rheumatic heart disease that hadn't been detected before. These cases were mild, and while the diagnosis is confronting and sad for the children and their families, knowing it's there presents an excellent opportunity to treat effectively with secondary prophylaxis (penicillin injections) and prevent any further progression of their RHD," said Dr Francis.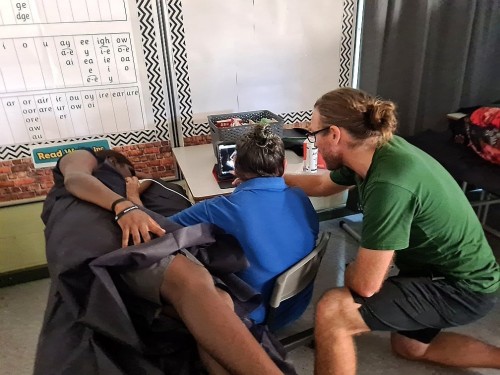 Anne-Marie has long been involved in Aboriginal health in her region. She began her careeer as an Aboriginal health practitioner, and while she is no longer a practitioner, she continues to dedicate her time advocating and educating her community on ARF and RHD.
 "While it was a full-on and exhausting week, it was a great for the community to come together. I was so happy that it finally happened and when they left I had tears in my eyes," said Anne-Marie.
And while she's been going non-stop as the chair of Sunrise Health, a community researcher with the SP Plus project, a champion with the RHDA Champions4Change program, and a volunteer echo screener, she has no plans to take her foot off the pedal.
"We have plans to do screening in five more communities in the future; some of them are really big and will take us a few days to screen everyone.
"It's a lot of work so it's great to have so many people and organisations coming together to help. We even had the Captains from the Starlight foundation. They were great for the kids as it's a long couple of days. They made a big difference and the kids really loved it."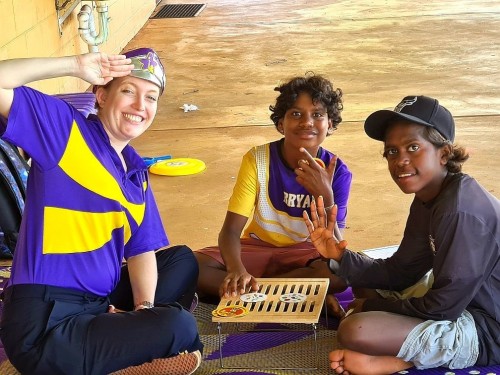 Dr Francis is also excited about the future and sees these commmunity echo screening activities as an important baseline from which to build from, not only because it can readily and accurately identify cases of RHD but it builds the capacity of the community as well.
"We're close to publishing some data on the accuracy of handheld echo screening, and constantly working on improving training to make it more accurate. I think it's fair to say that the tool itself is highly accurate in expert hands, but we are working with communities like Barunga to refine an approach to training Aboriginal health practitioners and other clinicians, so that this sort of echo screening can eventually be incorporated into routine work at the community level," said Dr Francis.
We look forward to seeing this initiaitive expand and would like to pay special thanks to Anne-Marie Lee and Dr Josh Francis for taking the time to speak with RHDAustralia and sharing their thoughts.