Take Heart - What is Rheumatic Heart Disease
Take Heart  is a moving picture advocacy project designed to put rheumatic heart disease on the global media and public health agendas. This short film includes medical and public health specialists from around the world talking with people living with this disease to describe the causes, symtoms and impact of acute rheumatic fever and rheumatic heart disease. 
Aboriginal and Torres Strait Islander people are advised that this video contains images of an Aboriginal person who has died.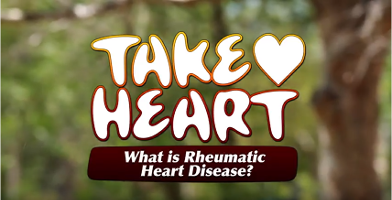 Developed by
Moonshine Agency Pty Ltd