Dr Bo Remenyi, NT Australian of the Year 2018
Paediatric cardiologist Dr Bo Reményi was NT Australian of the Year in 2018. She used this opportunity to highlight the high rates of rheumatic heart disease among Australia's Aboriginal and torres Strait Islander peoples.
In this short film she highlights some of the problems associated with rheumatic heart disease and the need to move from a treatment focus to a prevention focus. 
Aboriginal and Torres Strait Islander people are advised that this resource may contain images and voices of people who have died.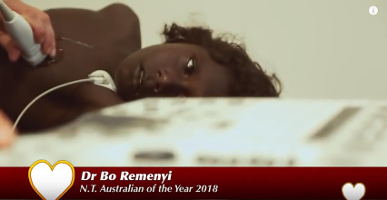 Developed by
Moonshine Agency Pty Ltd