Cardiac surgery case studies - Dr Bo Reményi
Dr Bo Reményi is a paediatric cardiologist based in Darwin. Here she describes the journey of two children from diagnosis of acute rheumatic fever to rheumatic heart disease and heart valve surgery.
This presentation was delivered at the RHDAustralia Evening Symposium, Brisbane, 22 March 2016. 
Aboriginal and Torres Strait Islander people are advised that this resource may contain images and voices of people who have died.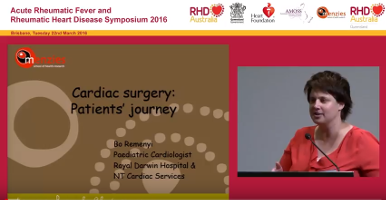 Developed by
RHDAustralia