ARF/RHD: What we know we don't know - Prof Bart Currie
Professor Bart Currie is Team Leader, Tropical and Emerging Infectious Diseases at Menzies School of Health Research. Here he presents an overview of group A streptococcal susceptibility, acute rheumatic fever prevention, and secondary prophylaxis.
This presentation was delivered at the RHDAustralia Evening Symposium, Brisbane, 22 March 2016.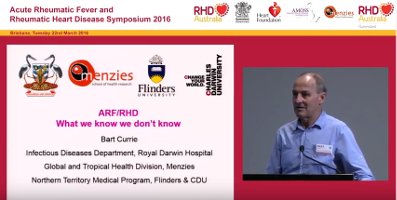 Developed by
RHDAustralia