Terrence, East Arnhemland
How do you encourage someone with acute rheumatic fever to have their regular injections?
Terrence, a senior aboriginal health practitioner from East Arnhemland gives his insights…
"When someone is diagnosed with acute rheumatic fever I tell them if you miss your Benzathine Penicillin G (BPG) your heart will get damaged and you will need surgery. I tell them about Warfarin and that they don't want to get to that stage." says Terrence.
"I say you have 28 days to have Benzathine Penicillin G and explain that this is a good amount of time to visit family and go fishing. But with Warfarin you won't have a good time. You're going to have a humbug. You won't be able to visit family and go fishing because you will always need to come to the clinic."
Terrence also found creative ways of encouraging children to have their injections.
"One example is an 11 year old boy who found the needles painful. He always took a long time to take his needles, from half an hour to one hour and always found a way to delay his injection," said Terrence.
"For example sometimes he was sometimes on the bed and when I try to give him the needle he would hop up and ask me what size the needle is? What I would do is I have two needles, one big and one small, I let him pick his needle, and the smaller one has Benzathine Penicillin G."
"I kept trying different ways to encourage him to have his needle, and once he was ready to go I would give him the needle."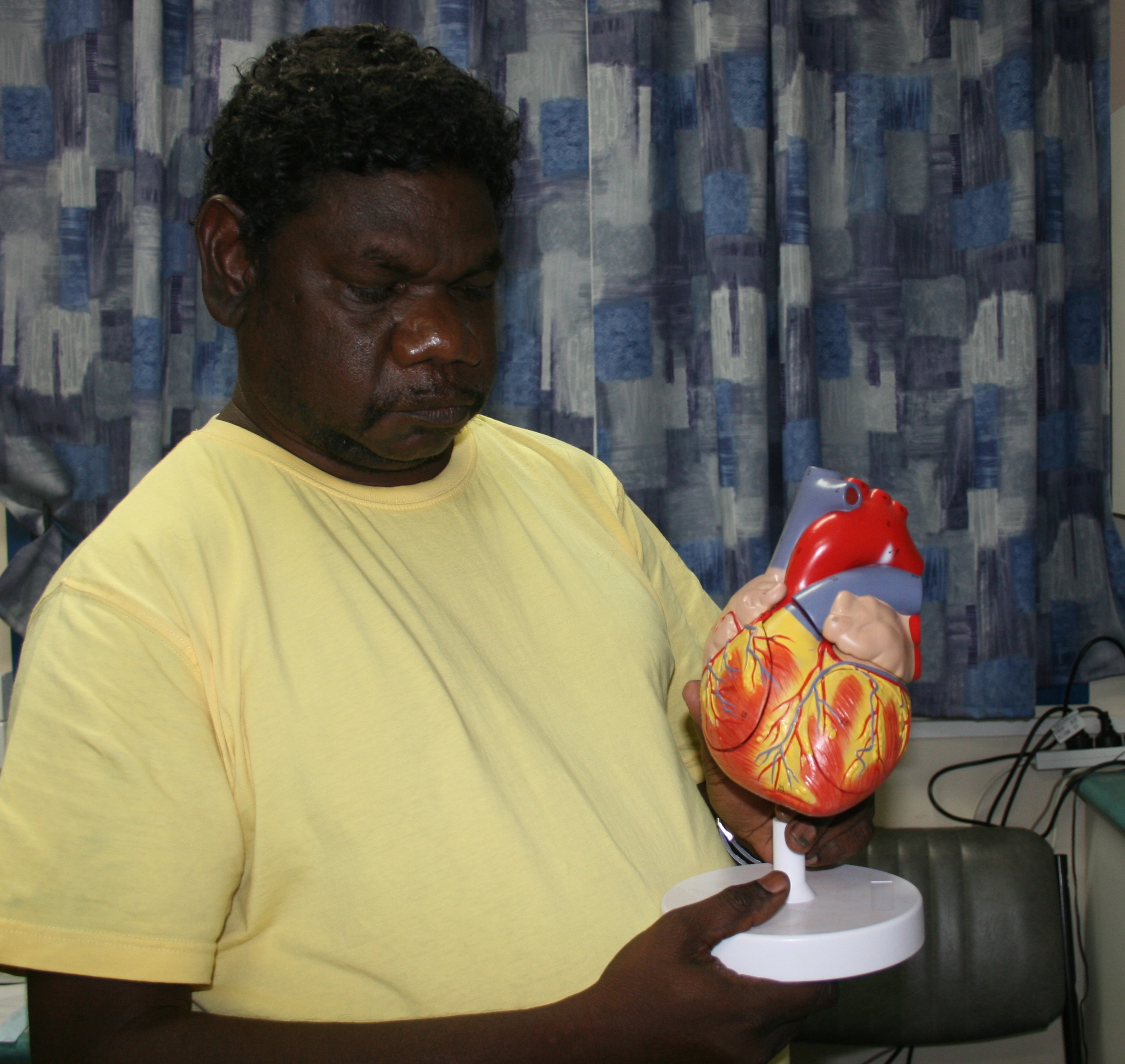 During his four years at Yirrkala Health Centre located in Yirrkala, a well-known Aboriginal community in East Arnhem, 18km south-east of the Nhulunbuy, Terrence concentrated his efforts on the promotion and prevention of rheumatic heart disease. In his own words he was the "captain of rheumatic heart disease" at the clinic; and made all patients with a history of acute rhematic fever and patients with rheumatic heart disease his responsibility, keeping a close eye on the recall book, treatment and follow up. Current Yirrkala clinic staff continue the good work with ongoing support from Terrence.
Terrence is now a Senior Aboriginal Health Practitioner with the Centre for Disease Control in Nhulunbuy. While his main focus is now on men's health and sexual health he still provides support to RHD control efforts across East Arnhem by educating health workers and nurses, giving BPG injections to men when it is not appropriate for the female staff to do this and helping make sure patients don't miss out on their specialist follow up appointments.
Terrence has a long history of valuable contribution to improving Aboriginal Health within the East Arnhem. In 2010, he received the Aboriginal and Torres Strait Islander Health & Leadership Award and in 2009 both the Remote award and the Legend award at the Aboriginal Health Worker (AHW) Excellence Awards in the Northern Territory.
Terrence's reputation as a role model and community leader continues to play a crucial role in managing rheumatic heart disease in East Arnhem.
Last Updated
29 June 2020