Important Health Message: prevention of rheumatic fever: West Kimberley Kriol
From the Take Heart film, this short clip carries important health warnings and information about preventing acute rheumatic fever and rheumatic heart disease. This film is narrated in West Kimberly Kriol language, please share it with communities who understand this language. Key messages for communities and families about the impact of acute rheumatic fever: people with rheumatic fever need penicillin in their body all the time to kill any strep germs and prevent heart damage; to prevent rheumatic fever; wash your hands; keep a clean house to keep the Strep germ away; and treat skin sores and sore throats. The film is now available in English and eleven Indigenous languages. All are available in the RHDA resource database. The original film in Bururra language was produced in response to a health emergency (an outbreak of acute rheumatic fever) in the Indigenous community of Maningrida in the Northern Territory.
If you are unable to access the video via Youtube or Vimeo please contact us for a downloadable file.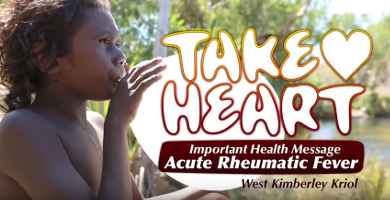 Organisation
Moonshine Agency Pty Ltd | RHDAustralia