Gotta Keep it Strong song - IHHP Merredin
Indigenous Hip Hop Projects was proud to work with the Njaki Njaki community of Merredin and partner with the Merredin Aboriginal Project Inc. (MAPI), University of Western Australia, Centre for Aboriginal Medical and Dental Health and Telethon Kids Institute to create this music video/health resource.
MAPI and partners are grateful for the generous support of the project's major sponsor, Collgar Wind Farm. In this video the koolungars (children) of Njaki Njaki Country want to share with you all they learned from Dr Asha about how to avoid getting infections that cause skin sores, sore throats, and runny ears. These infections are not a normal part of growing up and we must treat them otherwise bad bacteria can stay around and cause severe illnesses, including rheumatic heart disease and glomerulonephritis.
To have strong health we must go to the clinic for regular checks, go to see the doctor and be proactive in protecting ourselves and our community. Our connection to country, strong culture and strong spirit are important to our strong health. Our proud Njaki Njaki koolungars share with you our story. On a granite outcrop at sunset, Njaki Njaki boys perform a traditional bird dance of our totem 'Maarli' (the black swan). Maarli are strong and withstand being tormented by the little mischievous Djitty Djitty (willy wag tails). Maarli are much stronger than the kulbardi (magpies) who get frustrated and retaliate when the playful Djitty Djitty boldly provoke them. The Maarli teach us to be strong.
Aboriginal and Torres Strait Islander people are advised that this resource may contain images and voices of people who have died.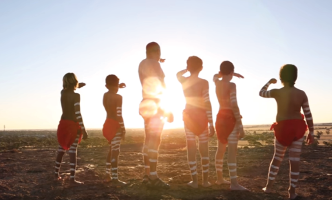 Developed by
Indigenous Hip Hop Projects