E-learning Modules - Administering Bicillin: reducing pain and distress
*PLEASE NOTE - The new RHDAustralia e-learning system was activated 6 October 2020. ALL users will be required to register a new account here. (Please check your junk mail if you do not receive an activation email)
This program is designed for health care workers who care for people with rheumatic heart disease, and especially those who deliver benzathine benzylpenicillin injections. More information is available in the secondary prophylaxis chapter in the 2020 Australian guideline for prevention, diagnosis and management of acute rheumatic fever and rheumatic heart disease, 3rd edition.
The learning objectives are to:
Define the cause of acute rheumatic fever (ARF)
Define rheumatic heart disease (RHD)
Define secondary prophylaxis (SP)
Identify risk of ARF and RHD in the Australian context
Outline basic RHD pathophysiology
Identify evidence-based methods to prevent ARF and RHD
Describe the concept of days at risk
Describe best practice delivery of intra muscular benzathine benzylpenicillin for secondary prophylaxis
Identify strategies available to minimise pain and stress for the person receiving SP injections.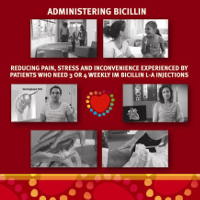 Developed by
Qld Health, RHDAustralia