A champion's story - taking back control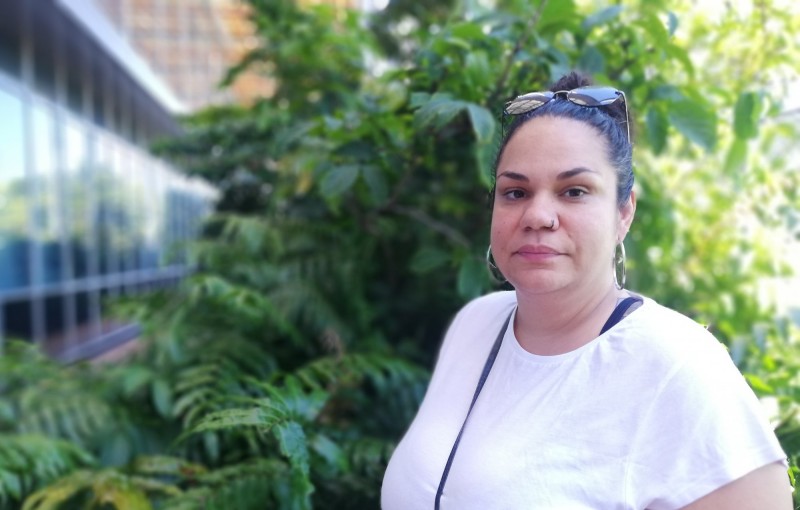 Renee Highfold is extremely focused on raising awareness about acute rheumatic fever (ARF) and rheumatic heart disease (RHD). Her passion for teaching and learning is evident in the numerous RHD workshops she attends as both teacher and student. With her 'teaching hat' on, she speaks frankly to other health professionals about the difficult journey she's had with RHD, and the pitfalls she faced along the way. And while she pulls no punches, she's optimistic that by sharing her story, she is improving patient care for other people living with ARF and RHD. As someone training to be a healthcare worker, she is always looking for more information, hungry to learn more about ARF and RHD; a disease she once knew nothing of.
"It motivated me to start studying again as a health worker and I'm on my way to graduate in June. I feel like it's a completely new me. I've taken back control and it's given me so much empowerment."
While she's a role model for many now, things were very different a year ago. She had left her home in Alice Springs, moved to Victoria, and then finally onto Adelaide searching for better healthcare. She had grown frustrated with the health system and the limited and often conflicting information she was receiving. She was tired of the way her three-weekly preventative long-acting penicillin injections left her feeling sick and in pain. She decided it wasn't worth it and quit attending treatment. She couldn't see the point of it all, and was at the lowest point in her life.
"I had hit rock bottom. I just felt like this person on a production line, living through these three weekly cycles – and I felt like my trust during this process had been broken continuously. It was just shattered, there was nothing there. My mental health had declined to where it had never been so bad," Renee says.
Seeking help, she started attending Nunkuwarrin Yunti, an Adelaide-based Aboriginal Community Controlled health organisation. There she met a nurse, Simone, who could see Renee needed to get back on track. Simone decided to call the South Australian RHD Control Program to muster more support for Renee.
"Simone was concerned I wasn't getting my needles and I wasn't in a good headspace. That's when she reached out to Christine Barclay, a nurse with SA Health, who came in a few days later to talk with me.
"Her presence was just amazing. She didn't pressure me to get my needle and I knew immediately that connection was made. I think that's paramount for Indigenous people – our trust. I think it's critical to have people like Christine who know what they're talking about, to be able to come in and give you that advice," Renee reflects.
And with that encounter, a relationship founded on trust was formed, and Renee's life began to turn around. She began attending RHD education workshops for health professionals in the Adelaide area. At first, she came to learn more about ARF and RHD, listening to the information she was so desperately seeking.
It was hard at first. Renee was learning so much and realising just how much she didn't know about the disease she had lived with for nearly three years.
"Christine invited me along to one of her workshops and while I went, I ended up having to walk out because I was so upset. I remember leaving there and being frustrated and upset with the fact that I felt like I wasn't the one leading this, that I didn't have control of my health," says Renee.
Then her mindset began to change. The one thing that changed her whole perspective and brought back the control she felt she had lost. She learned she had a choice; a choice over where the injection be made, somewhere other than in the Dorsogluteal site (the buttock),
"I felt like I was deceived. I never knew I had a choice where I could get my injection. So, I did a bit of research and found out you can give it in the Vastus Lateralis (thigh) area," Renee says.
Her research opened a floodgate of information. With what she had learned she wasn't satisfied with simply choosing a new injection site, Renee learned there was more she could do to take her self-care to the next level.
"I thought the Vastus Lateralis site might be the way to go but I also learned there were people out there who self-inject. I went back to Simone and said I want to start giving myself my injections.
"At first Simone wasn't sure what to think, but we have a respectful relationship and I said to her, 'I feel like to get out of this state I'm in emotionally, I need to break out'. I wanted to get back to studying, get back to work, and I thought you know what, that's it. And the change happened so quickly," Renee says.
"I had a couple more injections with Simone and each time I went away and did a some research. I found some videos, which we then watched and talked about together. I wanted her to know that I knew what I was in for and that this would be a working partnership to upskill my knowledge. 
"After a few more treatments, Simone and my doctor agreed I was ready. That's when I started to give the injections by myself. I'm now 100% compliant and haven't looked back since."
With a newfound passion for teaching and learning Renee is expanding her teachings outside of workshops and reaching out to health services in the area, selflessly offering clinicians an opportunity to work with her to improve their practice.
"I now go between two services, that's the Nunkuwarrin Yunti and the Wonggangga Health service because I want to create a good network. I've extended my hand out to those that attend the workshop and training from those services to come and trial their injection technique on me when I'm due for my needle.
"It sounds mad doesn't it? But I'm passionate about changing the injection site and improving people's practice.
"It motivated me to start studying again as a health worker and I'm on my way to graduate in June. I feel like it's a completely new me. I've taken back control and it's given me so much empowerment," says Renee.
RHDAustralia is extremely fortunate to have Renee as a Champion in the Champions4Change program and we would like to take this opportunity to thank her for sharing her story with us. We look forward to sharing more news about Renee as she continues on her journey of teaching and learning.
Last Updated
31 March 2021