From pain to gain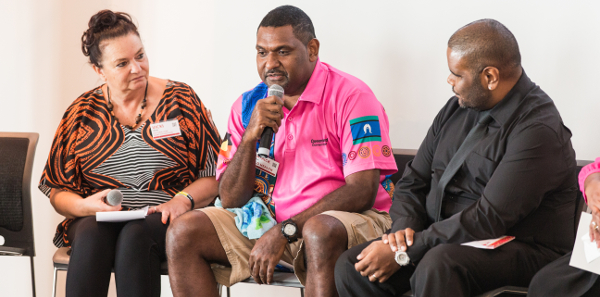 As an Aboriginal & Torres Strait Islander Health Worker born in the Torres Strait, Patrick Wasiu knows a thing or two about the myriad of health difficulties Indigenous people face in Australia. Working with the Napranum Primary Health Care Centre, he's keen to do what he can to help the people in Western Cape York lead healthier lives.
In fact, Patrick's love of working in health and helping people started after his own serious battle with rheumatic heart disease (RHD). A disease that damaged his heart so badly it required him to travel to Cairns and have open heart surgery.
As a RHD survivor, Patrick understands what it's like to have a serious medical condition and he uses his lived experience to connect with people in communities and to educate, treat and advocate for people living with acute rheumatic fever (ARF) and rheumatic heart disease. Patrick points out some of the problems he faced and some of the problems other Indigenous Australian's face when they live with rheumatic heart disease.
Living with RHD as an Indigenous Australian
"RHD is a really big health issue for the Indigenous people of Australia. It's also a very taboo subject. It was never talked about when I was growing up. There wasn't much education around it, there wasn't any education given at school and even at hospital after I was diagnosed. All I knew was that I had holes in my heart and that I had to go for my injections, which was terrifying. You weren't given any cold packs or any numbing agents. They would just say 'Ok, now lay on the bed, pull your shorts down'. I can still remember my first injection and the walk. I use to call it the walk of shame or walk of pain. It would take me nearly an hour to get from one side of the town to the other even though it's normally a 10-minute walk. It's very painful to walk after the injections."
From pain to gain
For Patrick, his difficult past has propelled him into his current role as a health worker and additionally as an advocate, raising awareness about the causes, symptoms, and treatments of rheumatic heart disease. In his capacity as health worker and RHD advocate, Patrick had this to say:
 "I do a lot of health promotion around RHD and helping people. I strongly recommend that if you ever have any joint pains, shortness of breath, or any sickness that you don't think is normal, go and see the doctor, it's really important. Don't be ashamed and ask questions. You won't know the answers unless you ask the questions. Look after yourself, eat well, be healthy, don't drink too much alcohol and be active. Don't leave it until it's too late."
Overcoming adversity
Patrick was kind enough to open up and talk to us about the difficulties he faced because of RHD and how, through this adversity, he came out on the other side with a new found lease on life and a dedication and passion for helping people to achieve better health.
 "It was hard on my family, especially mum and dad. We had to move away from the community. Mum had to make the hard decision to leave dad behind. Schooling was very hard, little English, language barriers, loss of weeks and months of schooling & education, we had to try and change from a little community to the 'Big Smoke' with traffic lights, roundabouts, and speed-bumps, and budgeting was very tight and difficult as I had to go to the hospital all the time and the taxi fares weren't cheap at all.
 "The operation was the most terrifying change for me. Before the operation, the doctors told me they're not sure what's going to happen, whether I'm going to make it or not. This wasn't a movie, this wasn't a script, this was real. I got a shock, I got numb, and then I burst out crying. I was telling my Aunty and my partner back then 'What's going to happen? Am I going to make it?' I told them that I loved them a lot and to tell the rest of the family  because I thought I was going to die.
Another major shock that nearly made me change my mind about having the operation was when I got told that my mum couldn't be my real mother. The blood results  had come back and didn't match. It was at that point I was told I was adopted, which really upset me to the point I didn't even care anymore. This was the most heartbreaking and gut wrenching news I've ever heard. All the bad thoughts were running through my mind. And being young, it was a big shock."
 "And then I had the operation. It's changed me as a person you know; I see the world in a different view. That's why I'm a health worker today and that's why I'm so passionate about working in health and RHD education, helping people out, and looking out for people's health and looking after my own health as well. I can't see myself doing anything else. I love my job with a passion. I'm going to be doing this job until I'm on a walking stick."
Last Updated
04 September 2017