Your Heart 'Lubs' You!
Submitted by Sean on Thu, 2016-09-29 12:49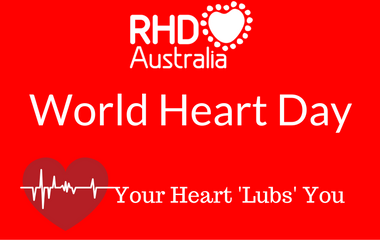 'Lub Dub'- this is the sound your heart makes as the heart valves open and close.  You've probably heard a few 'lub dubs' in your lifetime but have you heard of World Heart Day? Now in its 16th year and organised by the World Heart Federation, World Heart Day is an opportunity to celebrate the heart, a time to discuss the importance of a healthy heart and look at the preventative measures we can collectively take to fight heart disease. Rheumatic heart disease, hypertensive heart disease, ischaemic heart disease, cerebrovascular disease and inflammatory heart disease are just some of the life threatening heart conditions that can be significantly reduced through education programs and simple heart healthy lifestyle changes.
Who we are
At RHDAustralia we're doing our part to prevent and reduce acute rheumatic fever (ARF) and rheumatic heart disease (RHD) in Australia through education, awareness raising, quality data collection and reporting systems and national collaboration. As the National Coordinating Unit supporting the control of rheumatic heart disease in Australia; we work closely with the state and territory control programs to support them in their effort to identify people with or at risk of ARF and RHD. The control programs in Australia are located in the NT, WA, SA, Queensland and are tasked with a number of different programs including, identifying people with or at risk of ARF and RHD, supporting the improved delivery of long-term secondary prevention treatments, increasing awareness and expertise among the health workforce, providing advice on education and self-management support, promoting primary prevention and using information from disease registers to monitor health outcomes. In addition to supporting the RHD control programs in Australia, we've developed a number of targeted education and training packages to assist individuals, families and health care professionals in developing effective strategies to identify the root causes of RHD and ways to prevent and then treat RHD should it develop. Our resources are discussed in more detail below.
What is ARF/RHD
The most important thing to know about RHD is that it's 100% preventable. It is a disease that proliferates in areas of poverty and disadvantage. It's a disease that starts from undiagnosed and/or untreated streptococcal infection, which usually displays as a skin or throat infection ('Strep Throat'), and progressing in a matter of weeks to ARF, which can then damage the heart valves which leads to RHD. Research suggests that a majority of patients follow a traditional disease progression that looks like this; Group A strep infection -> ARF -> RHD.
The people affected
Rheumatic heart disease (RHD) affects 32 million people worldwide and kills 275,000 people every year. Despite Australia's national high-income status, the Northern Territory's Indigenous people have one of the highest rates of RHD in the world: at least 1-2% of Indigenous Australians living there are thought to have RHD, and Indigenous children are 26 times more likely to develop the disease than non-Indigenous children. There are 4 Jurisdictional registers that contain information about more than 6,000 people living with RHD, which shows that 40% of them are less than 24 years of age with most cases of ARF occurring in children aged 5-14. Can we get in a line or two on the importance of penicillin and that it is the mainstay of jurisdictional control programs?
RESOURCES FOR YOU
Download the Diagnosis Calculator App
Key information from The Australian guideline for prevention, diagnosis and management of acute rheumatic fever and rheumatic heart disease (2nd edition) is available as a free app for iPhone and Android devices. The app includes the acute rheumatic fever diagnosis calculator. The calculator incorporates an information tab that provides a text and visual reference for each technical stage of a diagnosis. This is designed to minimise diagnosis error and inconsistency.
There is no definitive diagnostic test for acute rheumatic fever. The only way to diagnose acute rheumatic fever is to put together a whole constellation of signs and symptoms to see if a patient has the disease. The diagnosis calculator helps clinicians with this complex diagnosis.
Get accredited through our FREE E-Learning modules
Free, accredited e-learning provides basic through to advanced level education on all aspects of the prevention, diagnosis and management of acute rheumatic fever and rheumatic heart disease.
RHDAustralia has developed a suite of free online clinical education modules to improve the prevention, diagnosis and management of acute rheumatic fever (ARF) and rheumatic heart disease (RHD). The modules provide basic to advanced education for all health professionals with topics ranging from an introduction to acute rheumatic fever through to surgical management of rheumatic heart disease.
The modules are endorsed by the Australian College of Nursing and accredited by the Australian College of Rural and Remote Medicine. On completion of the modules you will receive a certificate for evidence of continuous professional development (CPD) or continuous medical education (CME). Points or education hours are assigned to individual packages or modules. You will be advised of the approximate time commitment before starting each module.