RHDAustralia Supporting Next Generation of Indigenous Leaders
Submitted by Sean on Fri, 2020-07-31 12:48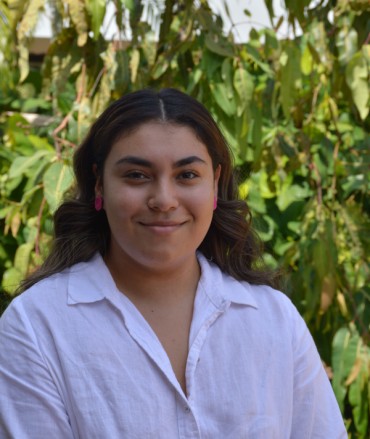 RHDAustralia is very fortunate to be able to offer traineeship positions through Menzies School of Health Research. Through this scheme, we help to build workforce capacity among young Indigenous people, who provide hands-on support to our projects while gaining skills to enhance their future training and career development.
This year, we're lucky enough to have Naja Dyrting, a Garrawa (Borroloola, NT) and Djugun-Yawuru (Broome, WA) woman born and raised in Darwin. Naja is a descendant of the Stolen Generations, and has family connections to the Tiwi people.
Naja joined RHDAustralia in March 2020 as an Indigenous Trainee through the Menzies Biyamarr ma Traineeship program. She completed year 12 in 2019 and is now doing her traineeship with us under the auspices of Group Training Northern Territory (GTNT), and she is using the opportunity to gain valuable work experience while studying towards a Certificate III in Business.
"I really wanted to get some experience in a working gap year. Next year I'm heading off to University and I thought an internship made a lot of sense. I'm able to get some work experience, a Cert III in Business and save some money for my first year at Uni," said Naja.
Naja is working with Senior Cultural Advisor, Vicki Wade, to support our Champions4Change program. For example, she is leading a project to develop a selfcare booklet, which is being designed and developed by the Champions themselves.
"It's been great working with Vicki, I've been learning a lot from her and how everything works, and the steps I need to take to get things done. When I first started I thought I was just going to be assisting with administrative duties like filing, scanning documents, picking up phone calls, responding to emails, so to be so involved in these projects has been exciting. I enjoy taking on leadership roles and try to do things the way I think they should be done and Vicki's been there to help me when I get stuck," said Naja.
Aside from honing her leadership skills, Naja has also assisting with the development of a new suite of eLearning modules, leading the creation and content curation of the newly established RHDAustralia Instagram page, and learning about corporate governance by attending and contributing to RHDAustralia staff meetings and preparing the minutes.
"I think my favourite part of the job is managing the Instagram account because I get to be creative and design new content for what's a very visual platform," said Naja.
But the job hasn't been without its challenges.
"And as an Aboriginal person myself, I find it challenging to see how far behind we are in terms of health, education and employment when compared to non-Aboriginal people. But I feel like I'm achieving something while working here – whether I'm helping achieve something big or small, it doesn't matter to me, as long as I'm helping my mob out."
"But overall, I'm happy with what I'm doing here, and it's opened my eyes to possibly following a career in health. I'd thought about being an obstetrician, or a paediatrician or maybe going into midwifery before, but I wasn't sure, so to be able to work in an organisation that's in the health space has been great," said Naja.
Naja is also keen to travel, see the world, and continue to work to help others.
"Chuck me on a plane and I'll go. I'm really interested in seeing southeast Asia and visiting Thailand, Indonesia, Philippines, anywhere really. I was planning on taking a gap year just to travel this year but because of COVID-19, I couldn't go. I had planned to volunteer and help build schools and spend some time helping organisations that look after stray dogs," said Naja.
We are excited to have Naja on board; we are grateful that she has taken time to share her story. Naja will be with RHDAustralia until December 2020.   
"I think it's important to have an organisation like RHDAustralia because if I, as an Aboriginal person, don't know about rheumatic heart disease then other people probably won't know what it is either. And so, there's definitely a need to raise awareness and create resources so we can teach other people about the disease." – Naja Dyrting, RHDAustralia Indigenous Trainee 2020