RHDAustralia Seminar Series - Adelaide
Submitted by captovate on Tue, 2014-07-01 12:20
Rheumatic fever and rheumatic heart disease are responsible for the largest disparity in cardiovascular disease death rates between Aboriginal and non-Aboriginal Australians. Almost all cases of RHD and associated deaths are preventable. An accurate diagnosis and management plan are crucial to reducing this disease burden.
*Australian Institute of Health and Welfare, Cardiovascular disease series no. 29. Cat. no. CVD 41. 2008
RHDAustralia recently held a free seminar for health professionals, students, and people who work in Aboriginal communities in Adelaide on Wednesday 18 June to provide information on the prevention, control and management of acute rheumatic fever (ARF) and rheumatic heart disease (RHD) in Australian Aboriginal and Torres Strait Islander people.
The seminar topics covered how to diagnose ARF, management issues including current guidelines, duration of secondary antibiotic prophylaxis and surgical considerations, statistics from South Australia and current research projects in Australia. Photos from the event can be found here. Most of the presentations are available below.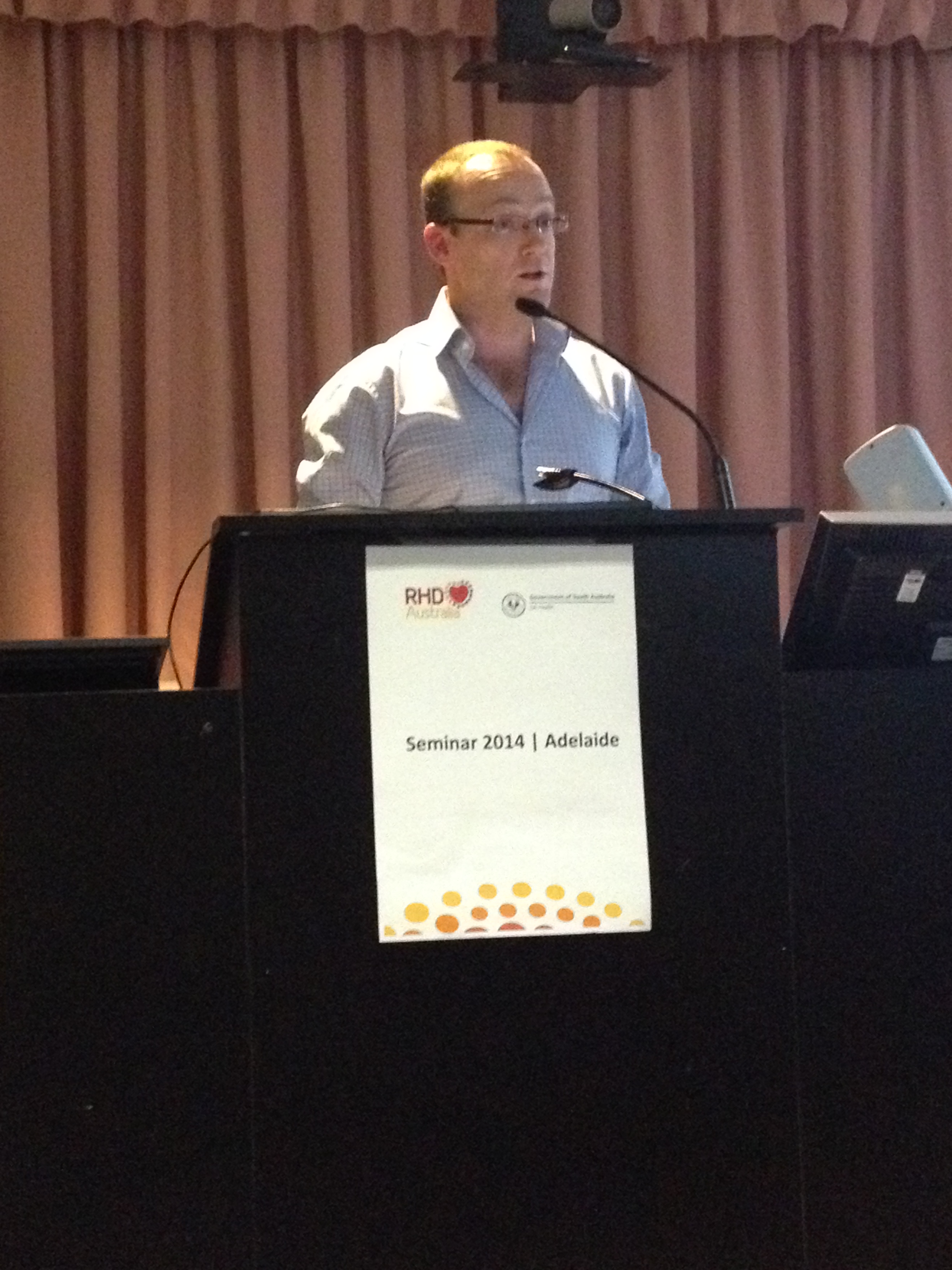 Deputy Director of RHDAustralia, Claire Boardman - The Australian Rheumatic Fever Strategy - The Role of RHDAustralia
Manager of the South Australian Rheumatic Heart Disease Control Program, Jennifer Cottrell - The landscape of ARF/RHD in South Australia
General Practitioner, Watto Purrunna Aboriginal Primary Health Care Service, Dr Penny Silwood, and, Aboriginal Health Worker, Damian Rigney - Watto Purrunna Rheumatic Heart Disease Management CQI Project
Cardiologist and Clinical Director, Medical Services, Central Adelaide Local Health Network, Associate Professor Christopher Zeitz - Practical Illustrations of the Guidelines at work.
Cardiothoracic Surgeon, Flinders Medical Centre, Dr Jayme Bennetts - Surgery for Rheumatic Valvular Disease - A Local Perspective.
Paediatric Cardiologist at the Womens and Childrens Hospital, Adelaide, Dr Andrew Kelly - Rheumatic Fever - Getting to the Heart of the Matter