Queensland collaborative workshop promotes 2020 guideline implementation
Submitted by Sean on Mon, 2021-03-29 11:35
Released in February last year, the 2020 Australian guideline for prevention, diagnosis and management of acute rheumatic fever and rheumatic heart disease (3rd edition), has now been downloaded over 36 000 times and over 1,000 hardcopies have been delivered all over Australia.
While wide distribution is an encouraging sign that health professionals are using the new guideline, ensuring the key recommendations from the 2020 guideline are implemented into Australian practice requires a multifaceted and collaborative approach.
To achieve this, the Heart Foundation, RHDAustralia, the Queensland RHD Program, and Brisbane South Primary Health Network successfully collaborated with local medical specialists to provide a workshop aimed at driving greater awareness and knowledge about acute rheumatic fever (ARF) and rheumatic heart disease (RHD) among primary health care providers in South East Queensland.
The collaboration, which included local cardiologists, a maternal-fetal medicine specialist, and clinical nurse consultants, focused on bringing the latest national guidelines into alignment with local practice through a series of interactive presentations.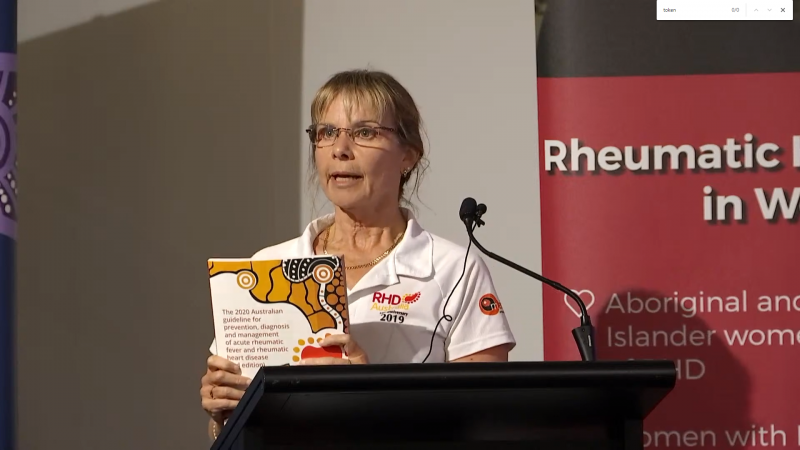 The workshop, held in Brisbane on 16 February 2021, highlighted topics in the 2020 guideline where significant updates were made including:
identifying those at high risk of ARF and RHD;
primary prevention of ARF through early antibiotic treatment of sore throats and skin sores in high-risk populations;
identification, treatment, and management of ARF;
secondary prevention of RHD; and
RHD in pregnancy.
Manager of the QLD RHD Control Program, Kylie McKenna, noted that in addition to workshops the guideline is being implemented in other ways across the state.
 "The guideline and recent changes are always mentioned in the education we provide in Queensland. We have purchased hardcopies of the guidelines and have sent these to providers across QLD," Kylie McKenna said.
The implementation of evidence-based clinical practice guidelines from recommendations into practice are important for ARF and RHD since these conditions:
are difficult to diagnose;
are underreported and underdiagnosed in the wider community; and
can have severe consequences for the people affected.
In a first for RHDAustralia, the face-to-face workshop was paired with e-learning modules delivered as pre and post-workshop activities. When successfully completed,  GPs earned 40 RACGP CPD points. While the CPD points were only applicable to GPs, all clinical staff were welcome to complete the e-learning activities and attend the workshop.
"Having the ability to meet with specialists face-to-face to receive education and ask questions paired with online learning pre and post the live event, that you are able to complete at your own pace, is invaluable to time-poor clinicians," said Ms McKenna
"Combining regional workshops with online delivery of accredited education and training offers health professionals a more robust learning opportunity that will help to embed new knowledge into current practice."
When asked about the benefits of running these collaborative workshops, Diana Mosca, RHDAustralia's senior nurse advisor, said "The collaboration between Brisbane South PHN, Heart Foundation, QLD RHD program and RHDAustralia provided a wonderful opportunity to reach a wide clinical audience.
"It was fantastic to have such highly esteemed and experienced speakers willing to present. Their local knowledge was well received by the audience," Ms Mosca said.
"The addition of the introductory and assessment activities made available online also helped to support the content provided by those specialists who presented face-to-face, and over the live stream."
There are over 3400 people with ARF and RHD receiving care in QLD. Over 20 per cent of these clients reside in South East QLD, with 50 per cent residing in the Metro South Hospital and Health Service area. In addition, Metro South region has the highest number of clients with severe RHD in QLD.
ARF usually presents in childhood and is most prevalent in Aboriginal and Torres Strait Islander people, and disadvantaged groups. The first diagnosis or recurrent episodes of ARF may lead to RHD.
Every year, RHD causes death and devastates lives. It can cause strokes in teenagers and can require children to undergo open heart surgery. RHD can cause such extreme illness, yet it starts with symptoms as simple as a sore throat or skin infection that can be treated.
These education and training workshops are an important component to ensuring the delivery of quality, efficient and effective care based on the latest evidence.
For more information about education workshops or to enquire about the potential for a RHD workshop in your area, please contact us at info@rhdaustralia.org.au.
Presentations from the workshop are available online by following this link or watching below.