Milestone for surveillance of rheumatic heart disease
Submitted by Cath on Thu, 2016-09-01 10:25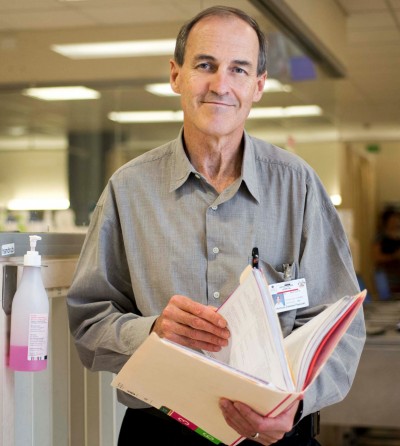 On 30th June 2016, a significant milestone was met with the submission to the Commonwealth Department of Health of the first report generated from the RHDAustralia Data Collection System (DCS).
This is a major achievement for RHDAustralia (RHDA) and the jurisdictions covered under the National Rheumatic Fever Strategy (South Australia, Western Australia, Northern Territory and Queensland).
Director of RHDAustralia Professor Bart Currie, says the data and Key Performance Indicators (KPIs) are robust and directly relevant to best patient care, both from a clinical and a public health perspective.
Pictured above: Professor Currie
"Having been initially sceptical that we could develop a data collection system that was truly useful and accurate, I have been extremely pleased to see the end result of the hard work of Cath Milne, Karen Dempsey (RHDA's data and epi team), our jurisdictional colleagues who collect and quality check the data and the many advisors to the project over the last few years," says Professor Currie. 
"The data and KPIs are robust and directly relevant to best patient care, both from a clinical and a public health perspective."
Data Collection System – Purpose and vision
The Data Collection System (DCS) is the central repository for the collection and reporting of acute rheumatic fever (ARF) and rheumatic heart disease (RHD) data, from participating Australian jurisdictions, against a recommended clinical data set and key performance indicators.
The DCS will provide mandatory key performance indicator reports to the Commonwealth as well as the participating states and territories. The first report incorporates 2013 data only but will be expanded to include 2014 and 2015 in the coming months. The report is with stakeholders for review and feedback.
"The vision is to have reports feedback to jurisdictions and from there to regions within jurisdictions, driving improved systems of prevention and care and also providing strong evidence for the clear need for more program funding for ARF/RHD - on the principal of equal access to equal care on the basis of need," says Professor Currie.
Importance of accurate ARF and RHD data collection
Accurate public health data is vital for ensuring best practice care. Improved information regarding acute rheumatic fever and rheumatic heart disease will benefit government, health professionals, patients, and families.
"The DCS reports will fulfil the mandatory requirements of the Commonwealth, but also will hopefully increasingly provide patients and their families with information that will empower them to advocate for better access to services and best quality care," says Professor Currie. 
"When the renewal of the ARF/RHD National Coordinating Unit (RHDAustralia) was being negotiated with the Commonwealth Department of Health in 2012, I saw the priorities being:
Primarily support for jurisdictional ARF/RHD programs; expansion of this support to regions not then formally supported (in particular South Australia, but subsequently NSW);
Continuing development of educational materials for health staff but also for those with ARF and RHD and their families; and
A focus on improving communication between all sectors involved to support both evidence-based best practice and the development of collaborative innovative ways to improve service delivery.
 "While I did not see data collection the priority at that stage, it was always going to be a component of the mandatory key performance indicators required by the Commonwealth of both the jurisdictions and of RHDAustralia," says Professor Currie. 
"After discussions with jurisdictional leaders, it was clear that we had to emphasise to the Commonwealth that only delinked data would be acceptable to the jurisdictions for any national reporting and that linkage of any ARF/RHD data with any other national datasets would not be happening. We were also aware that prior attempts at national reports contained data that were not accurate and complete."
Data Collection System –  Future direction and developments
"There is still a long way to go, as there remain issues with data retrieval and standardisation that are being worked through and also approval for reporting from some jurisdictions is still being sorted out. But the core data sets and KPIs are in place and the power of accurate clinical and public health reporting in driving continuous quality improvement will become evident as we move forward," says Professor Currie.
"Ongoing surveillance data will assist us in understanding the burden of disease from ARF/RHD in Australian communities, planning quality improvement measures and ultimately, will assist in improving patient-centred outcomes."
RHDAustralia extends thanks to the members of the RHDA Advisory Committee (RAC) who provided guidance and valuable comment throughout the development and implementation phase of the DCS. We also extend thanks to members of the Data Management Committee (DMC) who have provided oversight into the development of the DCS and the technical specifications and the RHD jurisdictional Program Managers for their contribution to the first report.