Meet Emer O'Connor - RHDA's new Health Professionals Educator
Submitted by Sean on Tue, 2021-07-27 14:38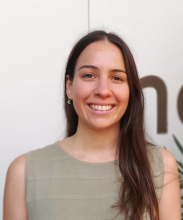 We are delighted to welcome Emer O'Connor to the RHDAustralia team as our Health Professionals Educator.
Emer is a Registered Nurse with over six years of experience in critical care units and more recently in primary health care settings. She joins us from Miwatj Health Aboriginal Corporation, where she worked in both clinical governance and as a remote area nurse in Ramingining.
"I'm passionate about working in the area of child and maternal health and infectious diseases. Most recently, I was working remotely in East Arnhem Land where I cared for and lived alongside many people with ARF and RHD, so when I saw the job advertised at RHDAustralia, I thought it would be a great opportunity," says Emer.
Originally from Perth, Emer's nursing experience also includes critical care at Sir Charles Gairdner Hospital and Royal Darwin Hospital (RDH) in both adults and neonates. Emer is completing a Master in Tropical Medicine and Public Health, through James Cook University, with a focus on policy and procedural development within primary health care settings.
"At Miwatj, I was involved in primary health care, outreach, health education and promotion. I really enjoyed my role and I'm eager to work with RHDAustralia to continue educating health professionals in best practice and culturally competent care for the individuals, families and communities living with ARF and RHD," says Emer.
As the Health Professionals Educator, Emer will work with jurisdictional RHD control programs, primary and tertiary care providers, research partners, the Heart Foundation and other stakeholders to develop and deliver resources and education and training activities to support the implementation of the ARF/RHD Guideline. Additionally, Emer will contribute to RHDAustralia's other key work areas including supporting the Champions4Change program and working with individuals, families and communities to strengthen education and awareness of ARF and RHD at a community level. 
While we welcome Emer on board, we would also like to thank Diana Mosca, who was our Senior Nurse Advisor for over three years. Diana has taken on a role within Menzies School of Health Reseach as the eGFR3 study manager with Associate Professor Jaqui Hughes. Diana was a valuable member of the team and pivotal in many important projects, including the development, dissemination and implementation of the 2020 Australian guideline for prevention, diagnosis and management of acute rheumatic fever and rheumatic heart disease (3rd edition). Thank you Diana, we wish you all the best in the future!