International conference on RHD: experts debate prevention strategies
Submitted by Sean on Fri, 2017-04-14 11:06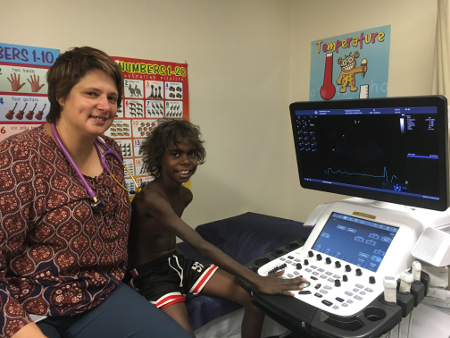 Dr Bo Remenyi is a paediatric cardiologist in the NT. She treats around 90 children with rheumatic heart disease (RHD), all of whom are Indigenous and account for about half of all her cardiac care cases. Dr Remenyi, an internationally recognised expert in the RHD field, recently presented at the Rheumatic Heart Disease: From Molecules to the Global Community conference in Cairo, Egypt.
One of Dr Remenyi's talks focused on secondary prophylaxis compliance rates in the NT. RHDAustralia sat down with Dr Remenyi to get an overview of how well the NT is doing in delivering secondary prophylaxis.
How well is the Northern Territory doing in the fight against ARF and RHD?
Over the past 10 years, we've had a significant increase in compliance with secondary prophylaxis (penicillin injections that prevent recurrent episodes of ARF). We're getting the highest compliance rates we've ever recorded, but we are not seeing full compliance (100%), which is necessary when preventing recurrent episodes of ARF. People with ARF need penicillin injections every 21-28 days to prevent future episodes as each subsequent attack increases the chance of seriously damaging their heart valves (this irreversible damage is known as RHD). This means they need 13 to 15 injections a year, often over a period of 10 years or more. With nearly all new and recurrent cases of ARF occurring in young Indigenous populations, we face some challenges ensuring 100% compliance.  
In terms of compliance, is there any data to suggest the higher compliance rates are driving down the recurrence of ARF episodes?
The NT is moving in the right direction. Because the NT RHD Control program collects such good data, we're able to get a fairly clear picture showing the rates of recurrent ARF episodes. It's interesting because while we would expect to see a decrease in recurrence alongside the increase in compliance, the reality is, incident rates of new and recurrent cases of ARF are continuing to increase.
Why do you think there's been an increase in recurrent episodes of ARF alongside an increase in BPG compliance rates?
We don't know whether the increase in recurrent cases is due to a failure of the secondary prophylaxis to reduce rates or whether increased RHD awareness, education and reporting standards among health workers have resulted in more cases being diagnosed.
For the first time since the data has been collected, the number of children requiring surgical intervention due to severe RHD declined. Last year (2016), there were only 3 children requiring valve replacement surgery in the NT. This would suggest secondary prophylaxis is working, so there's a lot of conflicting data out there. I think we will need five more years of data before we can say for certain what is happening.
You mentioned that your talk on secondary prophylaxis and recurrence rates generated quite a bit of discussion at the conference.
When I presented the data at the conference a lot of people in the room felt secondary prophylaxis alone wasn't going to reduce recurrence rates sufficiently. They noted, if you're getting good compliance rates but the treatment's still not reducing rates of recurrence, then it's time to invest in primordial and primary prevention in addition to secondary prevention.
In your opinion, what are some of the primordial and primary prevention measures that could be put in place to reduce the rates of ARF in remote communities?
"Primordial and primary prevention would address the risk factors themselves beginning with the social and environmental factors causing the disease; in this case a strain of bacteria known as Group A Strep."
At the moment, the national Rheumatic Fever Strategy is focused on preventing recurrent cases of ARF through secondary prophylaxis; however, there needs to be a greater focus on primordial and primary prevention. This would help reduce the transmission of the streptococcus germ that causes ARF in the first place.
There are many ways to combat transmission, including improving housing, better health education programs at schools, treating sore throats and skin sores quickly, and increasing the numbers of nurses in remote community health clinics.
Because of overcrowding and social disadvantage, these communities have very high rates of infection. So while treating ARF through secondary prophylaxis is critical, it is equally important to address social and environmental conditions.
Dr Remenyi was a lead author on The Australian guideline for prevention, diagnosis and management of acute rheumatic fever and rheumatic heart disease (2nd edition) and featured in the 2015 Take Heart documentary.