I remember when I first met Isiah....
Submitted by Sean on Tue, 2021-07-27 12:11
**WARNING: Aboriginal and Torres Strait Islander readers are warned that the following article contains images of someone who has passed away.**
Vale Isiah Johnstone Hodshon  2001 - 2021
I vividly remember the day I met Isiah for the first time. I was immediately taken in by his infectious smile. A smile that lit up his face, and mine. A smile that puts you at ease.
He had just turned 18 and was looking forward to spending time with the other Champions over the next few days. He had travelled from Adelaide to Darwin to be part of the Champions4Change workshop, and I remember thinking how brave he was to travel all that way to spend time with people he didn't even know.
So, when we got to the airport and couldn't find him, we were all a bit nervous. Had he had a change of heart? Did something happen? We rang his mum, who confirmed he got on the plane. She sent us a photo so we could track him down. We went outside and there he was sitting on his luggage, big smile on his face, happy as Larry.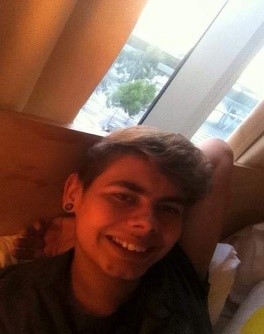 Photo his mum, Leticia, sent when we were looking for him at the airport. I replied, "such a cute photo."
He was a bit shy at first, but it didn't take long for him to come out of his shell. He was open and honest, talking with everyone about what it was like to live with RHD. It was a privilege for me to sit and listen to him and the other young ones about their lives and the stress RHD added to what was, to me, a time in life where possibilities should seem endless. They talked of the difficulty keeping on top of their monthly injections, of the transition to becoming adults and trying to live their life to the fullest. Bonds and friendships were instantly made and suddenly it became a safe place for the Champions to share their feelings.
It was clear from the start that Isiah had a great passion for music and saw this as a way to relate to other young people with RHD. Isiah, like many young Aboriginal boys, transitioning into adults, struggled with finding his place. He was frustrated, and at times felt helpless. He told me 'I just want to make music, I want to make rap music'.
Sensing how music gave him strength, we contacted the South Australian control program, who had a wonderful relationship with Isiah. We wanted to see how we could offer emotional support and help him with his music and his dream. We talked to the Starlight Foundation, who gave him some equipment for his music. He was very appreciative and straight away I saw a change in Isiah. He was excited and looking forward to working with other young Champions to make a rap video on RHD. Jennifer Cottrell from the SA RHD program, who's worked with Isiah for years, recalls,
"Isiah helped out the SA RHD Program with the development of a resource for young people with RHD. He had so much positive energy, and he told us how he wanted to travel the world one day. More recently we were in contact with Isiah when he was getting into making music, and it was clear this was such an important part of his life. We were so saddened to hear of his tragic passing, and our thoughts remain with his family and friends".
He was looking forward to coming back to Darwin to talk with Ray Ray, a young Aboriginal women with RHD, and another very gifted musician. Ray Ray's mother Noeletta was at the workshop in Darwin and recalls,
"I met this beautiful strong man in Darwin at our Champions4Change community workshop. I noticed him first in the crowd of strong faces, his smile was warm and welcoming, and he was the only other young person there besides my daughter Ray Ray. They got on like a house on fire! This young man had an infectious smile and laugh and his energy radiated throughout the room. I knew right then and there that this young man was bound for greater things and his proudness and respectfulness would lead him to these places. We are saddened at his passing …… we will meet again in the dreaming". 
Tragically, Isiah passed away in May, not due to RHD or its complications, but because of a senseless hit-and-run accident.
Isiah, your beautiful face and infectious smile will be remembered by us all, you will be missed by all our Champions4Change family. Thank you for coming into our lives, for sharing your stories, and making our lives much richer by knowing you. May our camp fires burn forever.
If you'd like to pay tribute to Isiah, you can visit his tribute page on Facebook. Shared with permission of his family.