HOT NORTH funding opens doors
Submitted by Sean on Wed, 2018-09-12 12:06
Building on his HOT NORTH research, Dr Josh Francis was recently awarded a $2.1M DFAT grant to provide surveillance training, research opportunities and national guidelines for communicable diseases in Timor-Leste.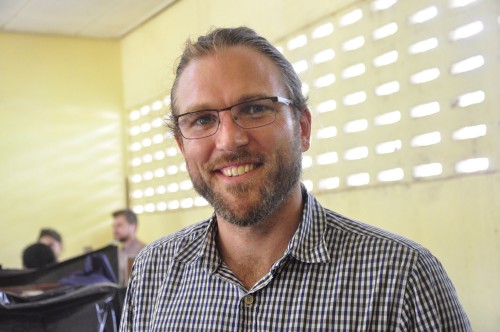 Article courtesy of HOT NORTH
Josh has a history of tackling challenging research projects in the Northern Territory and Timor-Leste. Earlier this year, Josh and his colleagues utilised HOT NORTH funding to successfully measure the prevalence of rheumatic heart disease (RHD) in school-aged children and young people in Timor-Leste. Findings from the study showed that up to 10,000 children in East Timor could have RHD.
We sat down with Josh to hear about his research, life in Darwin and working across the north with our regional neighbours in Timor-Leste.
"The HOT NORTH pilot funding that supported the Pedrino project in Timor-Leste provided an opportunity to explore novel ways of building capacity within the Timorese health system to ensure early detection, accurate diagnosis and implementation of effective public health measures for controlling RHD.
"The things we've learned through this will now be applied in the delivery of the DFAT funded health security project STRONG TL, which will focus on capacity building within the health system to improve communicable disease diagnosis, treatment and prevention in Timor-Leste," said Dr Josh Francis.
Dr Josh Francis' path to research came directly from his work as a clinician. He's a paediatric infectious disease specialist working between northern Australia and Timor-Leste in South East Asia. He says his work in Aboriginal and global and tropical health throws up many questions, and research enables him to get some answers.
"In Timor, kids are dying of sepsis all the time", he says. There are 10 to 20 deaths a month in the national hospital. It's very hard to look at that and settle for just being a clinician trying to save one life at a time. You find yourself asking questions. To try to answer some of those questions with research is a really rewarding part of what I do."
Josh did most of his medical training in Brisbane and Perth, but always knew he wanted to be involved in global and Indigenous health. He says he's in the best place for that.
"The Northern Territory has offered me an amazing opportunity to do both. I go back and forth to Timor once a month and Maningrida once a month and I'm in Darwin the rest of the time, it's a pretty amazing job," he says. "There's nowhere like Darwin. If you're interested in making a difference in Aboriginal health it's the best part of the world for it. It's also on the doorstep to rest of world in terms of global health, an hour flight to Timor and Maningrida."
The HOT NORTH project Josh worked on was looking for rheumatic heart disease (RHD) in children, both in the Northern Territory and Timor-Leste. Traditionally, it would be trained cardiologists with large echocardiography machines who diagnose the condition in hospitals, but with one trained paediatric cardiologist in the whole of the NT, and just one trained cardiologist from the entire country of Timor-Leste, that model was unsustainable. Instead, a key part of Josh's study was training other healthcare workers, nurses and doctors to use smaller, handheld machines not much bigger than a mobile phone. The training takes just a few weeks and means screening can be done in the community. It's a potential game changer and crucially means the rheumatic heart disease can be found before it gets out of hand.
"RHD kills children in Timor-Leste and here in Australia. In the Northern Territory 90% of all deaths from RHD are among Indigenous people. Every year children with severe RHD are required to undergo open heart surgery and for many of them, their life is definitely limited by it. If you find RHD before getting to the disastrous end of things; before heart surgery and heart failure, you can start the kids on penicillin, treat the RHD and they can have a normal, healthy life."
Josh and his team screened over 3000 school children in just over three weeks. In Timor-Leste, around three or four percent of the children have shown some signs of RHD and in the Australian children screened, over four percent. More than half of the cases picked up in the Northern Territory and more than 95% of those found in Timor-Leste, were newly diagnosed in the study.
It was encountering RHD on a daily basis as a clinician that inspired this study. Now Josh hopes his work will lead to policy changes in both countries.
"Changing policy in any country isn't easy,' he says. "In Timor-Leste, we are working with the Ministry of Health and the World Health Organization to develop a national action plan for RHD. We have a good opportunity to help set the direction to control rheumatic heart disease in Timor-Leste, and the results of this study will help to inform that."
As a product of Josh's study, there's also been a lot of work around community engagement and education in the NT. He's been working with the Aboriginal teachers in Maningrida to develop lessons about the disease which have had a really positive impact.
"It's a community I've been going to for about four and a half years and the excitement around this project was really positive. Alice Mitchell, a Menzies researcher, nurse and linguist, was working with the Lurra unit at Maningrida College to develop lesson plans which take kids through the whole RHD journey in four local languages. Some of the teachers, traditional owners and elders in community also say; 'We never knew this stuff either'."
He says one of the highlights of his research is the collaboration between Maningrida and Timor Leste.
"I am very passionate about both places; they're both like a second home to me. We had two Timorese doctors who came as rookie scanners to Maningrida, and two Aboriginal community workers who came to Timor-Leste. They did their training together and it was beautiful to see this multicultural team at work."
Amazingly, Josh's family are also involved in the study. His wife is a research nurse who works alongside him and his four children have travelled to Timor-Leste and helped with the project. And that's very important to him.
"I have this really rewarding work that I love and it can sometimes overwhelm everything else going on, but the fact that the family is so involved makes it all doable. The stuff we get to do as family, through Royal Darwin Hospital and Menzies, you can't do that if you live in Brisbane."
He obviously adores the NT, and says he and his family are very committed here.
"We were in Litchfield yesterday" he says, "That's a good answer as to why we're here."