HeartKids and RHDAustralia supporting rheumatic heart disease families in the Northern Territory
Submitted by Sean on Mon, 2018-03-26 13:19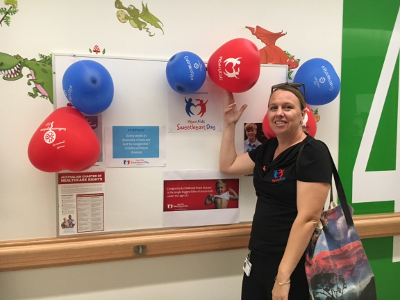 Of all the cardiac care cases paediatric cardiologist Bo Remenyi sees in Darwin, nearly half of them are Indigenous children with rheumatic heart disease (RHD) – nearly 90 children. These children are away from their community, extended family, and friends, sometimes for the first time in their young lives. They're trying to navigate an English-speaking western medical system when English may be their second, third or even fourth language. On top of that they're trying to come to terms with a life-threating disease that will affect them for the rest of their lives. It's an extremely scary and confusing time.
That's why it's so important to have support services in place to help children and families while they're away from home and experiencing hardship. It may be services aimed at assisting with language translation services, emotional, social and cultural support, transportation, financial support or a range of other services aimed at helping people in times of need.
"It all happened so fast that they didn't have a chance to bring anything with them, so I went out and organised some clothing and other odds and ends."
And just as important as having those services in place is having someone there to help them navigate and access the services available.  For kids with RHD in Darwin, Nadia Tolhurst, the HeartKids Northern Territory Family Support Coordinator is one of those people on the ground helping families find the services they need.
Nadia tells Murmur, "Unfortunately, I see heaps of kids with rheumatic heart disease in the hospital or in the clinic. They've been seeing this doctor and that doctor, a nurse here a nurse there, it's a lot to for them to take in.  I usually sit back and listen to them. By understanding where they are in their patient journey, I can better understand their needs and find ways to help".
"Sometimes it's help with financial support, accessing social services, organising transportation back home or down south for heart surgery, and worst-case scenario, organising bereavement services. Recently, a child had to be rushed into the hospital from a remote community because of chest pains. It all happened so fast that they didn't have a chance to bring anything with them, so I went out and organised some clothing and other odds and ends. HeartKids is there to help wherever we can."
Nadia knows she needs to understand the disease if she's to understand what these kids are going through.
"When I first started I really wanted to read up on rheumatic heart disease so I could be better prepared to help. I contacted the RHDAustralia team and they showed me their online learning modules.  The modules gave me a great overview of what causes RHD, how it would affect them and what their treatment was likely to look like," says Nadia
To be able to work effectively with Aboriginal and Torres Strait Islander people, Nadia knows the richness, diversity and complexities of their culture needs to be acknowledged and understood in a respectful and competent way.
"Part of my initial training included attending a number of cultural education workshops with the RHDAustralia team.  It really opened my eyes to how to best provide culturally safe support. With nearly all the RHD kids being Indigenous, building that trust and rapport has been crucial," said Nadia.
About HeartKids
HeartKids is the compass to help navigate the lifetime journey of the 64,000 Australian children, teens and adults affected by congenital/childhood heart disease.  Their aim is to help them -and their families - to lead the most fulfilling life possible and to reach their personal goals.
They are the voice for all people impacted by congenital/childhood heart disease - the largest cause of infant death in Australia.
Their work is focused on our four pillars of Advocacy, Information, Research and Support.
About RHD
RHD is a permanent, chronic, and sometimes fatal disease. Untreated, RHD causes heart failure and predisposes to arrhythmias, stroke, endocarditis and complications of pregnancy. These conditions cause progressive disability, reduce quality of life and cause premature death in young adults.
In the Northern Territory in 2010, the prevalence rate of RHD among Aboriginal and Torres Strait Islander people was 26 times the rate for non-Indigenous people.