Guideline on ARF and RHD to undergo significant changes
Submitted by Sean on Mon, 2018-03-26 13:11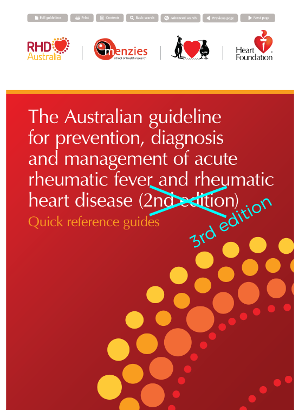 The Australian guideline for prevention, diagnosis and management of acute rheumatic fever and rheumatic heart disease (2012) was developed to support Australia's health workforce to provide evidence-based, best practice care for people with, or at risk of acute rheumatic fever (ARF) and rheumatic heart disease (RHD). The guideline, which is currently available as a printed book, is being updated in 2018/19.
Sara Noonan from RHDAustralia will coordinate a review of the second edition commencing this year; "We will consult with key stakeholders and engage content experts to look at the latest evidence and do the writing", she said. "Feedback from the health workforce community over the last few years has highlighted a steady trend towards web-based, portable options for accessing clinical information. With this in mind, we plan to deliver the final product through an interactive digital platform so that important clinical information can be found and accessed quickly by busy people."
The original guideline was published by the Heart Foundation in 2006. This was the first, evidence-based document produced by experts to support diagnosis and management of ARF and RHD in Australia's unique population. In 2012 the second edition was published by RHDAustralia. This version contained new sections including the role of primordial and primary prevention in preventing ARF and RHD, updated care planning for people with RHD and timing of surgery, an expanded discussion around RHD in pregnancy, and the introduction of the World Heart Federation criteria for diagnosis of RHD by echocardiography. 
In the next edition, there will be several important new themes including cultural safety and end of life care, and new technologies to help prevent and manage ARF and RHD.
The current guideline continues to provide best-practice information for clinicians, so please contact RHDAustralia if you would like a copy. Meanwhile, we are interested to hear your feedback if there is some way the guideline could better support your practice