Graduating on Country: 'both-way academia'
Submitted by Sean on Wed, 2020-04-15 15:17
Authors: Makungun Marika (course graduate), and Alice Mitchell
On 30th July 2019, 11 adult Yolŋu students graduated from Charles Darwin University (CDU) after completing a course in Community Health Research. The graduation ceremony was held in Baniyala Homeland (east Arnhem Land, NT) and incorporated into anniversary celebrations of Sea Rights previously confirmed by the High Court of Australia for the traditional owners of Blue Mud Bay in 2008.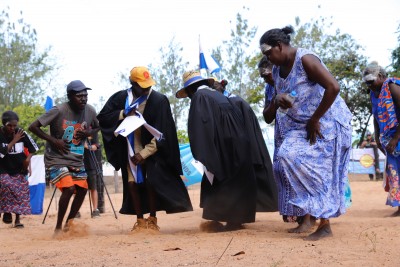 The course was undertaken through the Menzies School of Health Research in Darwin. Our interest to undertake the course was ignited by learning of our population data around rheumatic heart disease (RHD). Our leader, Djambawa Marawili, AO, determined that the high rates of this disease meant he needed to act for the future of our homeland, to enable us to continue as carers of our country. We initially tried to address the problem alone, but help came from Associate Professor Anna Ralph in the form of a proposal and funding to undertake the course in Community Health Research as a way to approach RHD action. Our training was embedded in an action research project during which we designed three action areas to address RHD in our homeland.
We intentionally held the graduation ceremony on our land. Our purpose was to be visible; to encourage our people to take opportunities to continue education for our mutual benefit. By holding the event on our country, we wanted to demonstrate our achievement in the western university system but within our own ceremonial domain.  
Our homeland of Baniyala is a strong part of our identity and livelihood that cannot be altered or removed without destroying us as a people. We have had a long struggle to gain recognition from governments and other agencies that this is our home, our economic base, our history, our Place, our Heart.  We stand and use our culture to identify ourselves; strong culture and land is who we are.
We gathered as a group on our Yeŋapuŋapu (ceremonial ground) which is ringed by ancient Tamarind trees next to the sea. We stood around a traditional sand sculpture that represents our three clans, Gumana-Dhalwaŋu, Maḏarrpa and Mangalili, and the connections between sea, land, kinship; relationships to each other and the environment. To start with, Djambawa led men in a mournful song unaccompanied by claps sticks or yiḏaki (didgeridoo). Through this song, he was recalling and recognising all who had gone before us in our struggles; our grandfathers, fathers and uncles. Through the song we were recalling their instructions to form the permanent community of Baniyala, to build a future for us all, and especially for the new generation, because the world was changing.
Opening speeches were given by the Master of Ceremonies Mr Waka Munungurr, custodial leader of the Maḏarrpa clan, by Dr Alice Mitchell from Menzies School of Health Research and by a special guest, Mr Pedro Zwahlen, Swiss Ambassador to Australia.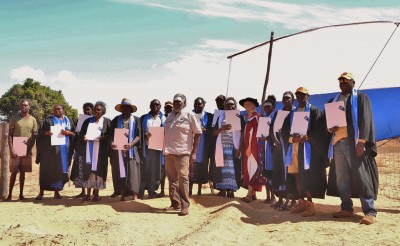 Under instruction from our leaders, we stood as a group of graduands on one side of the sand sculpture. As our names were called out, we walked across the sculpture and between two ceremonial poles painted to represent our two moieties and the sea, to receive our awards from the NT Minister for Education, Selina Uibo. A crowd of guests and family encircled us and clapped. We felt proud and happy, and also relieved to be graduating on our own ceremonial ground among our family, friends and visitors because it had been a long journey for us.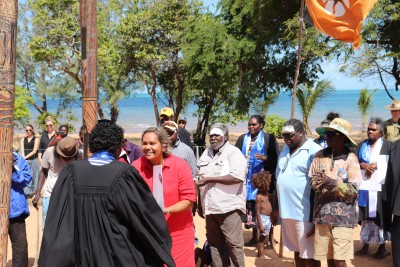 For our graduation we wore black Western academic gowns with our Baniyala colours; blue representing Mungurru (the sea) and white representing Waŋupinyi (the clouds). Western educational institutions have a long history of academic regalia starting from the 12th and 13th centuries. Colours worn over gowns symbolise different universities and different schools inside those universities.
For our graduation, we proudly wore our colours in a stand of our identity within those western traditions. Wearing our colours symbolises our partnership with CDU and the recognition of the equality of two systems of knowledge; both western knowledge and our traditional knowledge. The training that we undertook in our course was approached with respect and with a valuing of Yolŋu and western knowledges, cultures and languages. It was an example of two-way learning. Using this approach enabled all of us to grow in our knowledge and understanding, both of our research topic and of each other, 'holding both worlds'. We greatly benefitted by the university coming to us instead of us needing to leave our homes and families and travel far away to the university. We were thankful to our tutor from the University of Western Australia, Emma Haynes for her willingness to live in our homeland for more than a year as both a learner and a teacher, and as an adopted family member in our kinship system.
Our colours blue and white now hold an additional meaning. They represent "both way academia". We hope that we can continue to gain further training for more of our people, on our land. This will benefit us as we endeavour to grow our livelihoods, in our Place on our Country.