Champions4Change Update - Self-care and Micro-credentialing
Submitted by Sean on Fri, 2020-07-31 12:35
Despite difficulties imposed by the COVID-19 pandemic, the Champions4Change program continues to develop. We are working towards developing a self-care resource for Champions and their communities, and supporting a strategic initiative that aims to see Champions earn micro-credentials through a collaboration with Charles Darwin University (CDU).
Self-care booklet
Led by our Senior Cultural Advisor, Vicki Wade, and assisted by Indigenous trainee, Naja Dyrting, the Champions are developing a self-care booklet that will include practical strategies to optimise physical, emotional and mental health for themselves and for people in their communities living with acute rheumatic fever (ARF) and rheumatic heart disease (RHD).
The booklet will focus on the strength of Champions' connections to culture and ways of staying strong on country, and use Aboriginal and Torres Strait Islander knowledges, opinions and beliefs to inform a new model of self-care. Champions stories and lived experiences will also be threaded throughout the booklet.
This unique resource will have a broad focus, including practical advice to improve and maintain physical health, along with suggestions for nurturing mental, spiritual, cultural and emotional health.

The booklet is in an early stage of development. In July 2020, RHDAustralia hosted a virtual workshop with members of the working group. The group defined five key components of the self-care model, and several other points of focus to include in each component. The five key components are:
Promoting and caring for culture and self
Commitment to personal growth and development
Sharing Aboriginal and Torres Strait Islander knowledges and stories
Building respectful relationships and investing in people, including cultural mentors
Privileging Aboriginal and Torres Strait Islander ways of being, knowing and doing
The following were highlighted as critical elements to underpin the model:
The model needs to be practical, feasible and repeatable. (With permission from the Aboriginal Health Council of South Australia, the Sharing our Ways of Staying Strong booklet, which was developed as a resource to support the Aboriginal and Torres Strait Islander workers, is being used as a framework for content development.)  
Information in the booklet should be contextualised to the lives of Aboriginal and Torres Strait Islander people most at risk of ARF and RHD, and it needs to be relevant to the Champions4Change program.
Real life stories from Champions are important, because they reflect their cultural, physical and emotional journeys.
Self-care strategies should include

connection with family, community, and other Champions
finding and taking advantage of, new opportunities for growth
finding balance within the ebb and flow of life with a chronic disease
defining personal and professional boundaries when working as a Champion
monitoring self-health, and approaches for self-care and how to prevent issues from arising
taking control, helping others, and participating in advocacy efforts for community and family are core elements of self-care
acknowledging positive steps and celebrating achievements
Micro-credentialing
Another piece of work currently underway involves a collaboration between RHDAustralia and the Indigenous Researchers Initiative at CDU that would allow Champions to use their cultural learnings, experiences, skills and knowledge to earn digital badges that represent their achievements and skills.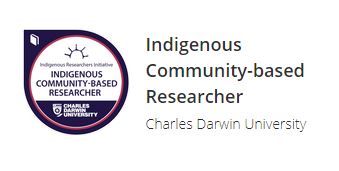 Through this scheme, led by Rohan Corpus, RHDAustralia's program manager and senior cultural advisor, Vicki Wade, Champions would receive an Indigenous community-based researcher credential for the activities they've carried out in their communities and with RHDAustralia. The award is a dual academy credential based on comparable research skills assessed by CDU and a senior cultural authority in communities where the Champions work.
Credentialing recognises two-way learning, skills and capacity-building in a cultural way as equivalent to western accreditation, and provides additional study and employment opportunities as students work towards a higher credential using their existing level of badging.
If you are interested in learning more about any of these activities, please contact us at info@rhdaustralia.org.au