$5000 raised for HeartKids SA/NT
Submitted by Cath on Wed, 2016-06-01 15:56
RHDAustralia were delighted to see HeartKids SA/NT be presented with $5000 to support their work in the Northern Territory. The funds were the proceeds of the NT Budget Breakfast held in Darwin on the 26th May. The event was attended by industry, government and business leaders who heard from both Susan Shanley, HeartKids Family Support & Events Co-ordinator and Aaron Loganathan, a young boy who underwent heart surgery this year, about the challenges kids and families with heart conditions face and the great work HeartKids do to support them.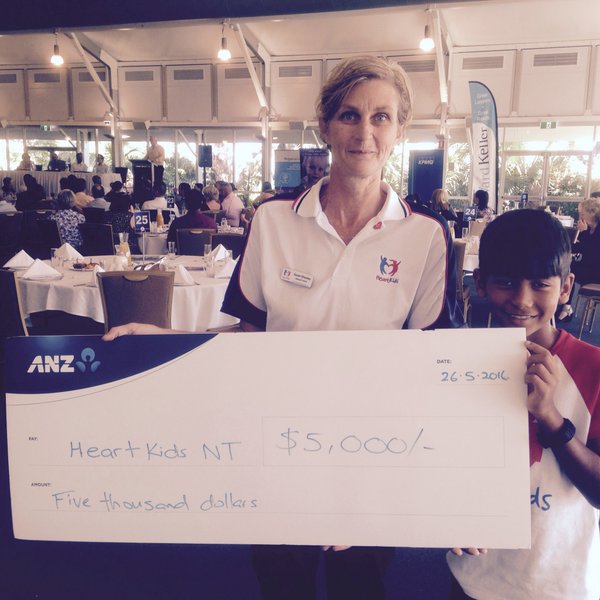 HeartKids is a national organisation with a presence in each state and territory. HeartKids is dedicated to provide support, encouragement and hope to the families of children with heart disease as well as raising awareness and vital funding for research. Susan Shanley, supports 168 families in the Northern Territory with both congenital and aquired heart disease, many of the kids are rheumatic heart disease patients.  Susan provides practical and emotional support to the families and works closely with medical and support staff at the Royal Darwin Hospital and Royal Melbourne Children's Hospital to make the daunting surgical journey easier for families.  Aaron and his family are one of many who have benefited.  
Aaron is a 9 year old Darwin boy who underwent open heart surgery in July 2015 having been diganosed with a rare heart condition after fainting after a school sports carnival. Aaron is now back in Darwin, back at school and enjoying playing with his friends and AFL - and proving to be an amazing advocate for HeartKids and other kids with heart disease. HeartKids featured Aaron's story in their recent newsletter.