2019: Reflecting back on the last 12 months
Submitted by Sean on Wed, 2019-12-18 11:09
As 2019 draws to a close, we take the opportunity to reflect on what has been an incredibly busy and productive 12 months. This year also marks RHDAustralia's 10th year in operation, and we have taken a look back on the last decade to assess our lessons learned, what we've achieved and the enormous amount of work still to be done. We encourage you to visit the timeline for a look back on the last 10 years of RHD in Australia.

2020 will see a change in leadership at RHDA, with Professor Bart Currie standing down from his position as Director. We'd like to take this opportunity to thank Bart for his dedication to RHD, his guidance and expertise. Bart will remain active in the RHD space and we look forward to his continued input and technical advice. Congratulations also to Bart who this year was recognised for his milestone of 30 years at Menzies School of Health Research! At the beginning of 2020, we welcome Professor Anna Ralph and Professor Alex Brown as the new Co-Directors of RHDA.
'I'm thrilled to be taking on this role with Alex. Working with such a great team will be a joy, and being involved in the important work of RHDAustralia is humbling and gratifying. Bart has made such an enormous contribution to RHDAustralia, and RHD-related research and clinical practice in Australia for over 30 years. His knowledge and advocacy fundamentally underpins the large body of work now underway to eliminate RHD. He might be stepping down as Director but his expertise will be drawn on regularly! I've been very fortunate to have been mentored by him over the years. Looking ahead, I'm optimistic and excited to be working with RHDAustralia.' – Professor Anna Ralph
As a team, we'd like to sincerely thank the many communities across the country who have welcomed and collaborated with us throughout the year, as we work together to raise awareness of ARF and RHD. The Champions4change program has grown significantly in 2019, and we're proud to have over 40 Champions involved in the program. Champions from across the country have shared their stories at conferences and with audiences such as the Australian College of Rural and Remote Medicine (ACRRM), Council of Remote Area Nurses of Australia (CRANA), National Aboriginal Community Controlled Health Organisation (NACCHO), Australian Indigenous Doctors' Association (AIDA) and more. We are grateful for the honesty and generosity of the Champions as they continue to share their personal journey, challenges and successes. This week, Diana Mosca and Vicki Wade are out at Nhulunbuy, working with local Champions to develop program plans and discuss how we can support them to spread the message of ARF prevention.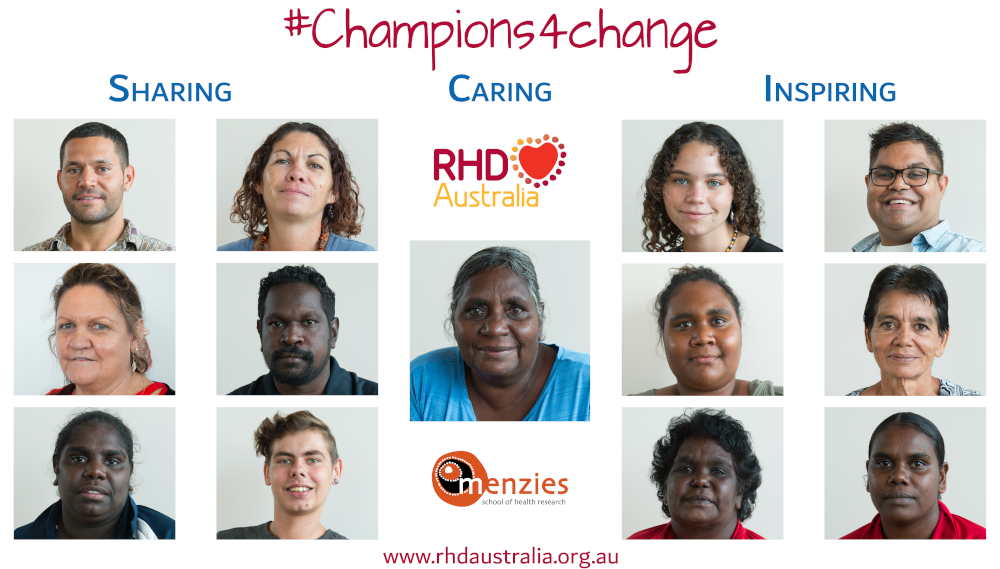 We continue to partner with jurisdictional control programs to run face-to-face workshops in various communities, and have had over 100 participants throughout the year. We look forward to continuing this work in 2020, with a particular focus on Aboriginal Health Workers and Practitioner's (AHP) – these workshops are accredited by NATSIHWA . We're also looking forward to the release of the AHP online module in January, which will sit with our suite of e-learning resources. This year saw over 2,500 module completions, and for the first time we have RACGP accreditation of some of the modules. We continue to work with the Lúrra Language and Culture Unit in Maningrida to share their school curriculum on ARF and RHD with other schools and communities in the NT.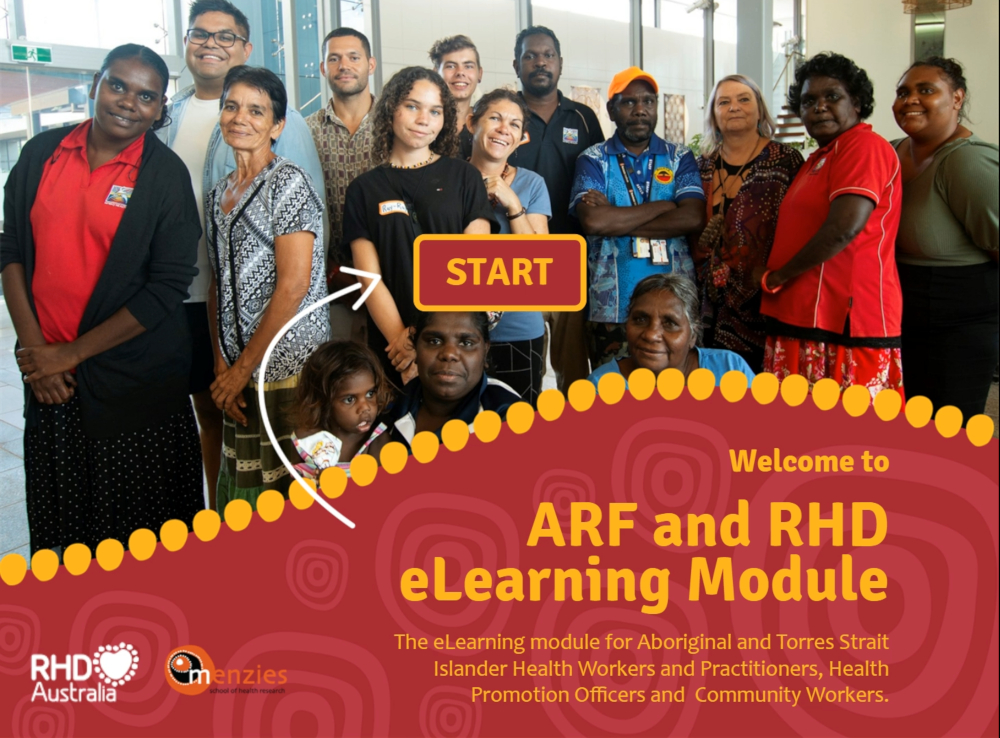 In September, RHDA's Senior Cultural Lead, Vicki Wade, received the Sidney Sax Medal. The Medal is awarded to an individual who has made an outstanding contribution to the development and improvement of the Australian healthcare system in the field of health services policy, organisation, delivery and research. Australian Healthcare and Hospitals Association (AHHA) Chief Executive Alison Verhoeven stated that Vicki 'has demonstrated outstanding service and commitment to Aboriginal health, particularly heart health, in a career spanning over 30 years. And, like the late Sid Sax himself, she has been highly influential through being consultative and respectful.' We congratulate Vicki for this well-deserved recognition of her tireless dedication to the health of Aboriginal and Torres Strait Islander people, and thank Vicki for her continued strength and leadership.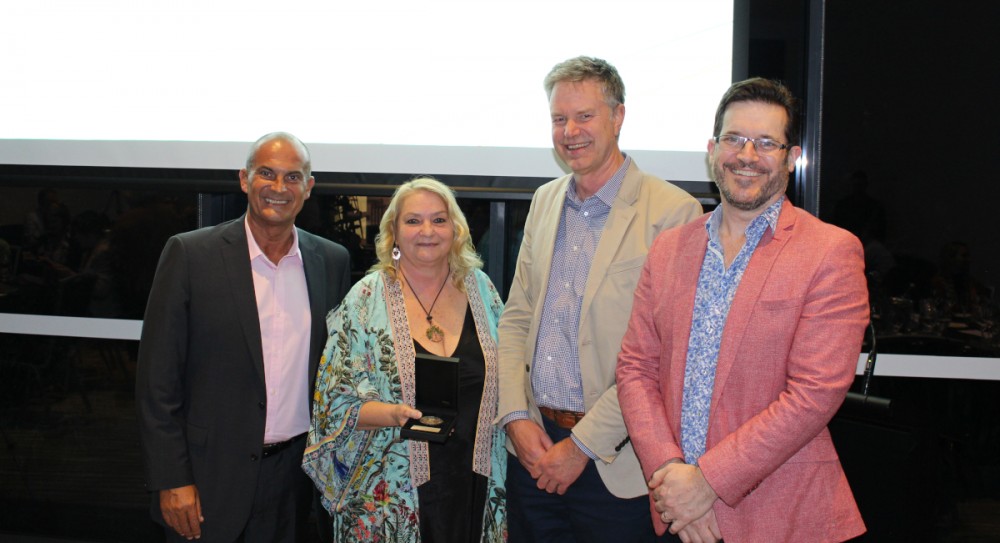 The 3rd edition of the Australian guideline for prevention, diagnosis and management of acute rheumatic fever and rheumatic heart disease has been a major body of work this year, and we're currently in the process of finalising the document for release in early 2020. Writers and reviewers from across the country have examined the levels, quality, strength and applicability of the latest evidence to the Australian context, with significant consideration to the clinical impact of each recommendation and with a strong cultural underpinning to highlight culturally-safe practice. The result is a comprehensive decision-making tool for the delivery of quality, efficient and effective care for those living with ARF or RHD. We offer sincere thanks to the many writers, editors and contributors who have worked to produce this body of work.
From the entire team at RHDAustralia, we thank you for your continued support and collaboration, and wish you and your loved ones a safe and restful festive season.
Please note:
The RHDAustralia office will be closed for the holidays from 24 December – 1 January.
We continue to look for expressions of interest for the Champions4change program. If you know someone who may be interested in joining, please invite them to contact info@rhdaustralia.org.au for more information. The Champions4change program was designed and developed by community members affected by ARF or RHD. Champions may be people with ARF or RHD, or someone caring for them. They come from communities across the country and play many different roles. They are mums, dads, grandparents, siblings, friends, Aboriginal health workers and practitioners, nurses and carers. They're leaders in their community who are concerned and want to prevent ARF and RHD in young people.