Introduction to ARF and RHD E-Learning
*PLEASE NOTE - The new RHDAustralia e-learning system was activated 6 October 2020. ALL users will be required to register a new account here. (Please check your junk mail if you do not receive an activation email)
About Introduction to ARF and RHD E-learning Module
How much do you know about rheumatic heart disease?
This program is designed for clinicians who require introductory knowledge of acute rheumatic fever and rheumatic heart disease. More information is available in the in the 2020 Australian guideline for prevention, diagnosis and management of acute rheumatic fever and rheumatic heart disease, 3rd edition.
 Learning objectives are to:
define acute rheumatic fever and rheumatic heart disease
identify people at highest risk of ARF and RHD
recognise signs and symptoms of acute rheumatic fever
identify required actions for suspected acute rheumatic fever
understand the principles of secondary prophylaxis
identify the role of RHD control programs
identify opportunities for best practice care for people with RHD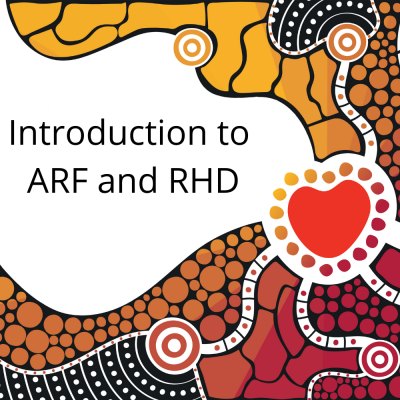 Begin Introduction to ARF and RHD E-learning Program
Time to complete: approximately 45 minutes
To gain Continuing Professional Development (CPD) and a statement of completion, the program of five modules must be completed. Each module contained in this program is designed to be completed in the order they are presented. Modules vary in length. Once enrolled in a program, you can leave and come back any time to where you left off.
On completion of this learning program, you will be eligible for CPD recognition from:
Australian College of Nursing
National Association of Aboriginal and Torres Strait Islander Health Workers and Practitioners
Australian College of Rural and Remote Medicine
Acknowledgements:
RHDAustralia resource development committee generously provided feedback and resources used in the development of this program. People with ARF/RHD generously allowed the use of their photos and video. Community members have given permission to use photos of them and their community in this resource.
Please note: Pictures in these videos have been very kindly shared  for educational use by many people and programs around Australia. The videos in this e-learning program may contain pictures of people who have died.
---
Module Summaries
Module 1: What are Acute Rheumatic Fever and Rheumatic Heart Disease (10 minutes)

This module provides an introduction to acute rheumatic fever (ARF) and rheumatic heart disease (RHD).

The learning objectives are to:

define acute rheumatic fever and rheumatic heart disease
identify people at high risk of ARF and RHD

Module 2: Acute Rheumatic Fever - Diagnosis (10 minutes)

his module provides an introduction to the diagnosis of ARF in Australia.

The learning objectives are to:

List the major and minor manifestations of ARF
Identify management required for suspected ARF
Locate information supporting best practice for secondary prophylaxis

Module 3: Physiology of Rheumatic Heart Disease (5 minutes)

This module  provides an overview of how RHD affects the heart. The learning objective is to:

describe the changes in the heart that define rheumatic heart disease.

Module 4: Secondary Prophylaxis and Rheumatic Heart Disease (10 minutes)

Secondary prophylaxis is explained, including suggested strategies to minimise pain and stress of penicillin injections every 28 days. RHD control programs in Australia play a vital role in the coordination of secondary prophylaxis at a jurisdictional systems level.

This module provides an introduction to secondary prophylaxis and rheumatic heart disease control programs.

The learning objectives are to:

describe secondary prophylaxis for ARF
identify contact details for RHD control programs

Module 5: Management of Rheumatic Heart Disease (10 minutes)

People with rheumatic heart disease require extensive follow up, especially when first diagnosed. The severity of the disease can improve or worsen. Management of RHD is dependent on the severity of the disease, and requires active engagement by the patient, family and multidisciplinary team.

This module provides an introduction to caring for people with rheumatic heart disease.

The learning objective is to:

describe the care required for people with RHD
Last Updated
13 November 2020