Howard King: A Man on a Mission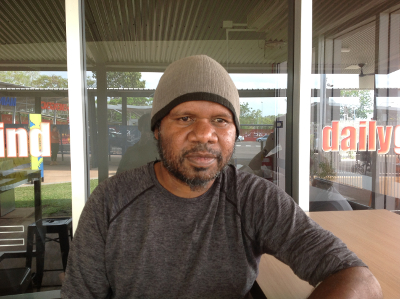 Howard King, a Gurindji man from Daguragu in the Northern Territory, doesn't let anything stop him from getting his penicillin injections at the clinic, not even the monsoon rains and flooding that frequent the Top End.
 "I got my boots off, put on my footy shorts and shirt, went upstream and swim across."
For six months of the year when the rains are at bay, it's an easy 8-kilometre trip down the road to the clinic in Kalkarindji. But in the wet season, the monsoon rains wash out roads, flood creeks and make travelling back and forth between Daguragu and Kalkarindji difficult.
What do you do when you need to get your injection but can't drive down the road because the roads washed out? Well if you're Howard, you walk up stream, jump in the flooded Wattie Creek and swim downstream while trying to avoid the trees, sticks and swells of Wattie creek now turned Wattie river.
"It was a rough rough rough one too, lot of trees and a lot of dry sticks. I got my boots off, put on my footy shorts and shirt, went upstream and swim across. It was a really big big flood, a really big one. The wave were really big and there were a lot of sharp sticks. I swim across and then float down and I walk 6-7k to the clinic. I didn't want to wait until the next week."
Every 28 days Howard travels from his home in the remote Northern Territory community of Daguragu to the health clinic in Kalkarindji for his penicillin injections. He's been making these trips for 13 years and in those 13 years, he never missed a single injection. Howard told Murmur quite matter-of-factly, "Since the first one I got, I never miss one, I've had more than a hundred injections." Some quick back of the envelop calculations tells us it's probably around 170 injections.
Howard knows that missing an injection can lead to a recurrence of acute rheumatic fever (ARF). When he was diagnosed 13 years ago, the Aboriginal Health Practitioner looking after him told him another case of ARF could lead to rheumatic heart disease (RHD), a disease that can lead to serious disability and even death.
"Some Aboriginal Health Worker was explaining it for me. She was saying, this is very important for your heart, for your life. She was teaching me about the disease and to make sure I understood I needed to get the needles," said Howard.
Murmur caught up with Dee Hampton, the Aboriginal Health Practitioner who first treated Howard at the Kalkarindji clinic.
"I told Howard the same thing I tell all the people who need their injections for ARF and RHD. This is your health, you're going to need to take responsibility and make sure you get your injections. I talk to them to find out what they know about the disease and then find the gaps and educate them on what they don't know," said Dee.
13 years later, Dee's words still ring true to Howard and he's as committed as ever to getting his injections, even when he's away from home.
 "I've been travelling a lot now, for sport and work. I've been to many different communities but I never forget about this needle. No matter where I go, I never think, I'll wait till I go back to Kalkarindji, nah, wherever I go I just get it," Howard tells Murmur.
Days at Risk1
The Northern Territory (NT) has very high rates of a ARF and its sequelae RHD. Timely provision of secondary prophylaxis is the best way to prevent recurrence of ARF and damage to heart valves (RHD). The interval between injections of LA Bicillin is critical for this treatment to be successful. The NT RHD Control Program works to prevent recurrences of ARF by promoting individuals at risk to have their injections of long-acting Benzathine penicillin (secondary prophylaxis) every 21-28 days. On average 30% of all NT cases of ARF are recurrences. An audit of 5 to 19-year olds at risk of ARF showed that on any one day 20% to 67% were not protected and 'at risk' of recurrence because of delayed secondary prophylaxis. To improve timely prophylaxis three clear messages are promoted:
1. to avoid any days at risk;
2. to have the needle every 21-28 days; and
3. that the 28th day is the last day to have the needle to avoid any days at risk.
---
References
1. Edwards, K. Days at risk for acute rheumatic fever recurrence. The Northern Territory Disease Control Bulletin. 2013;20(2):pp. 24-25.
Last Updated
26 June 2020