Take Heart – New NT screenings
Submitted by captovate on Wed, 2016-11-02 12:54
Location
Deckchair Cinema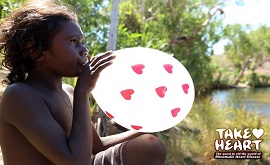 Deckchair Cinema -
Take Heart: The quest to rid Australasia of Rheumatic Heart Disease will be showing at Darwin's icon Deckchair cinema as part of their Reconciliation Week double session. Take Heart will be followed by When the Dogs Talked.
Date: Friday 3rd June
St Peter's Anglican Church -
St Peter's Anglican Church, Nightcliff, Corner Trower Road and Sabine Road, Darwin, NT, 0810
Date: Wednesday 8th June
Time: 7 pm
Tickets: All welcome
Central Australia -
Central Australian's will get the chance to see the movie on the big screen when it shows in Alice Springs on the 24th August 2016. Venue and ticketing information will be available on the TakeHeart website nearer the screening date http://www.takeheart.tv/see-it/
A powerful story
Take Heart reveals the incredible true-life stories of young people living with RHD, their families and health workers caring for them. The stakes are high for these kids, RHD is life-threatening and they must comply to strict medication schedules to stay alive. Regular health checks, restricted activities and frequent hospital admissions are commonplace and they rely on the support of their family, friends and community health workers to keep them on track. This is not easy as most young people living with RHD are from poor, disadvantaged and often remote communities. Perhaps this situation is made worse knowing that RHD is 100% preventable.