A mother's instinct coupled with years of nursing experience may have saved her son's life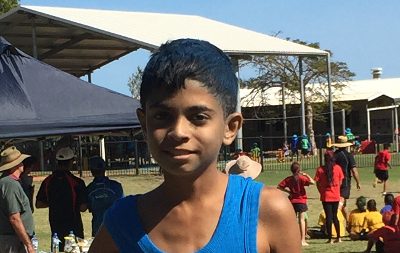 Desarae Clements is a Care Coordinator with the Closing the Gap team at Boab Health Service in Broome. The Closing the Gap Team provide care coordination and service access to Aboriginal people with chronic health conditions in the Kimberley.
However, Desarae says her most important role is that of mum and carer. That role was pushed to its limits in late 2015 when she woke up to find that her 11 year-old son Charlie, holder of numerous school running records, couldn't walk, much less run. His pain was so intense he screamed whenever he was touched.
In speaking about that day, Desarae, said "Like many boys his age, he loves sports and running around outside, so when he said he couldn't walk, I took him straight to the hospital."
"When we got to the hospital, they told us it was growing pains and sent us home. His dad Shannon and I were sceptical; I've seen numerous cases of rheumatic fever and I told them I wanted him tested. They did a blood test but it was inconclusive.  For the next month, we kept going back and forth to the hospital.
 And then they finally tested his heart, which revealed some irregularities. At that point, they referred us to a cardiologist where he was diagnosed with ARF."
There is no definitive diagnostic test for ARF. The only way to diagnose it is to put together a whole constellation of signs and symptoms to see if a patient has the disease.
This was a key reason for the development of the ARF diagnosis calculator by RHDAustralia, to help clinicians with this complex diagnosis.
Desarae and Shannon's tenacity paid off, and her instincts and training had proven to be right. But that was just the beginning of their journey.
With Charlie, this single occurrence of rheumatic fever kept him out of school and off his feet for nearly three months.  For the next ten years, he'll need injections of benzathine penicillin G (BPG) every 28 days to ensure he doesn't have a recurrent case of rheumatic fever. Further occurrences could seriously damage his heart and lead to severe rheumatic heart disease (RHD).
With Indigenous children aged 5-14, the most likely group to account for new and recurrent cases of ARF, there are a number of challenges around ensuring adherence to treatment. The Australian guideline for prevention, diagnosis and management of acute rheumatic fever and rheumatic heart disease (2nd edition) (pg. 60) lists a number of potential strategies to improve the delivery of secondary prophylaxis that include:
identifying local, dedicated staff members to deliver secondary prophylaxis and coordinate routine care
focusing on improving relationships between health staff and patients/families
supporting and using the expertise, experience, community knowledge and language skills of Aboriginal health workers
improving the quality and delivery of ongoing health education and support for staff, patients and families
promoting the importance of secondary prophylaxis in preventing recurrent ARF and the development or worsening of RHD
implementing measures to reduce the pain of injections where indicated
How does Charlie stay motivated to continue with his treatment?
In Desarae's previous roles, she gave BPG injections to ARF and RHD patients. This experience taught her a lot about administering BPG and reducing pain, stress and inconvenience experienced by patients.
"At first it was very difficult; Charlie would cry and carry on. He found the needle very painful, so he didn't want to go and get his shots. As a nurse I knew there were other things we could do to reduce the pain.
"I asked the nurse who was giving him shots to try a smaller gauge needle. It takes a bit longer but it's better. She was also injecting it into his thigh and he's a skinny little fella and afterwards, his leg hurt so much he couldn't walk. So, I asked her to try to put it into his buttocks area instead."
"Both of these changes have really helped and he no longer gets upset when it's time for his injections; he can walk out straight away, pain-free."
These are just a few techniques available to nurses who are responsible for giving BPG injections; more information on reducing the pain of BPG injections can be found in The Australian guideline for prevention, diagnosis and management of acute rheumatic fever and rheumatic heart disease (2nd edition) (pg.61).
And how do you keep Charlie motivated to keep getting his shots?
"I've explained to him the importance of getting his needle. I've told him he needs to keep with the injections so nothing bad happens to his heart. He's a sports child, so I always emphasise the importance of having a strong heart so he can keep playing sport."
Charlie is lucky to have proactive and knowledgeable parents who went out of their way to make sure their son received the treatment he needed. Because Desarae was on top of his illness and continues to look after him, Charlie is able to lead a relatively normal life.
Today, Charlie's focused on running and looking forward to joining the Little Athletes Program. For his parents, it's about making sure Charlie keeps that runner's heart healthy and strong.
Last Updated
26 June 2020