Champions4Change Program
 

 

 

 

 What is the Champions4Change program?

The Champions4Change program is a culturally safe support program for people living with acute rheumatic fever (ARF) and rheumatic heart disease (RHD) in Australia. It is entirely designed and led by Aboriginal and Torres Strait Islander peoples and communities. The Champions4Change program is run by people from across Australia with the lived experience of ARF & RHD. The group of champions support each other, advocate for ending RHD and design education and awareness programs for those in their own communities.
It's a fantastic opportunity for people to meet others with the lived experience of having ARF or RHD, or caring for someone who does, whilst sharing their journey, challenges and ideas. - Vicki Wade, Senior Cultural Advisor, RHDAustralia
Inspiration
The Champions4Change motto is inspiring, caring and sharing. Inspiring others to take charge and make a difference, caring for others with ARF and RHD and sharing ideas and stories, especially those with the lived experience.
Who are the champions?

Champions are people (or carers of people) with ARF and/or RHD. They are mums, dads, brothers, sisters, grandparents, friends. They are leaders in their community who are concerned about ARF and RHD in their communities.

What do Champions do?

They volunteer their time to help bring about meaningful change and raise awareness about ARF & RHD in Australia. Champions work with their communities and others to develop awareness raising or advocacy programs.
Champions in action
Anne-Marie worked with local school children in her community and organised to create a music video called Boom Boom. The video about RHD was made in partnership with Skinnyfish music, END RHD, Menzies School of Health Research, Bupa and ABC Kids' Justine Clarke. This video has been shared widely on social media, websites, and media outlets.
Ray Ray shared her story at an international conference held in Darwin. She was supported by other champions, (Vicki Wade, Helen Brown, and Noeletta – her mother). Ray Ray told this group of expert clinicians things they did not know about living with RHD, how she was diagnosed, and how she lives with it. This was so successful that the Australasian Society of Infection Disease will include this type of session at all future conferences.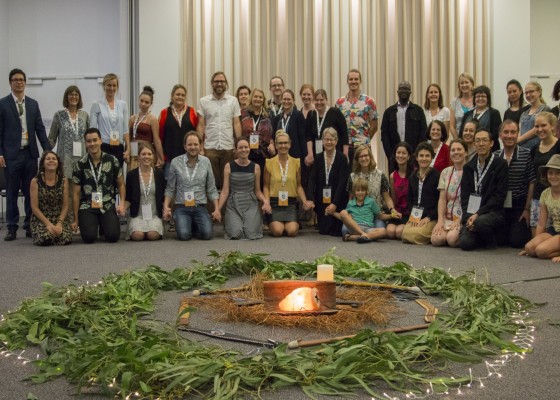 Kenya and Anne Marie are working together to make an informative and interactive poster, in language, to be displayed in local health clinics. This 'talking poster' is a great example of how Champions are utilising their local community knowledge on culture and language to raise awareness about ARF and RHD in their community. Once this poster is created, RHDAustralia will support other communities and Champions to consider if they would like to do something similar in their community.
Other activities proposed by champions include:
visiting schools to talk about RHD,
attending conferences or speaking to audiences about living with ARF and RHD,
networking with other Champions,
being 'patient navigators' to assist in navigating the health system,
arranging camps for Champions to come together.
Champions are encouraged to tap into their cultural knowledge to bring about a richer understanding of what it truly means to be living with ARF and RHD.
Why is it called 'Champions4Change'?

The term Champions4Change was developed by the Champions themselves because they believe that it describes who they are and what they represent: 'Champions4Change – sharing, caring and inspiring'.

How do champions work?

They work in partnership with RHDAustralia and are invited to attend events and activities organised by RHDAustralia, or to design their own. When someone becomes a Champion, they become part of a community of RHD Champions working together to share ideas and activities. Attendance or participation in any activities is entirely up the Champions themselves, and they determine how much time they would like to dedicate.

What are the requirements for champions?

If someone wishes to become a Champion, they participate in organised activities, or design their own activities. There is no requirement to join in any activity that isn't of interest. Whilst Champions are not paid for their time, all expenses are covered by RHDAustralia and no one is out of pocket for the activities they choose to lead or be involved in.
Last Updated
05 October 2021